Kobe Bryant's last night in Sacramento hit him right in the heart
In his final game in Sacramento, Bryant reflects on his career, playoff battles and on the end of what he considers to be an oddly sacred basketball ground, the Sleep Train Arena.
SACRAMENTO, Calif. -- The receiving line was impossibly long for Kobe Bryant on Thursday night at the old barn formerly known as Arco Arena, where he had some of his most spirited -- and meaningful -- postseason battles.
The narrow hallway leading to the bus ramp was packed with well-wishers from all walks of life -- from DeMarcus Cousins and Rudy Gay to acquaintances from his many trips here over the past 20 years. He posed for pictures, signed T-shirts, laughed and mugged for the cameras. All the while, his own personal video documentary crew captured every moment, every image.
Every word.
So on the way to the bus, I reminded Bryant, who I've written about for most of those 20 years, what he told me in 2014. On his way back from a severed Achilles that would've sent mere mortals to the rocking chair, he said that when the end finally came, he had no use for a farewell tour.
Didn't need one, he said. Didn't want one.
He would much rather hear boos than cheers, he told me then. He would prefer to feel the realness of the end, as opposed to some staged retirement party.
And while there was no mistaking the symbolic passing of the torch from Bryant to his young teammates -- as he watched from the bench for the entire fourth quarter as they climbed all the way back from a 27-point deficit against the Kings -- there was also no confusing what the end of Bryant's storied career has become.
Sure enough, a farewell tour.
He laughed.
"It kind of turned into that, didn't it?" he told me on his way to the bus, having run the gauntlet of good-byes and thank-yous and can-I-get-a-pictures that must have been almost as exhausting as getting his 37-year-old body ready to play in this building one last time.
"I wasn't expecting this kind of reaction, to be truly honest," he said. "But it's been pleasantly surprising to me to be able to have this experience. And to be honest with you, it feels good. It feels damn good."
In his final game in Sacramento, where the Kobe-and-Shaq Lakers had so many compelling playoff battles in the early 2000s, Bryant had 28 points in nearly 31 minutes -- all of them in the first three quarters. Then Bryant sat, stood, waved, cajoled and essentially coached from the bench for the entire fourth quarter as the Lakers' future -- led by the sensational DeAngelo Russell -- nearly dealt another crushing blow to the Kings before falling 118-115.
"Even if I had 15 or 17 minutes or something like that, I'd much rather watch the young guys play," Bryant said. "They played so well. It's important for them to learn how to close those games out without me on the floor, because obviously, I'm not going to be there next year."
Bryant announced in November that he will retire after the season with his five championships, two Olympic gold medals, 17 All-Star berths (and counting) and one MVP award. Since then, against his better judgment, he's had some meaningful farewells. His last game in Madison Square Garden was special. So was his last trip through Philadelphia, his hometown. There was Boston, too, the site of what he calls his greatest career accomplishment -- beating the Celtics of Kevin Garnett, Paul Pierce, Ray Allen and Rajon Rondo in the 2010 NBA Finals.
But this? This was unreal. The "Ko-be" chants from his longtime archenemies in the stands of what is now the doomed Sleep Train Arena, hit him right in the heart -- which he pounded before pointing to the crowd one last time as he walked off the floor.
"I'm sad to see this place go," he said. "It's been a long time coming for this city to get a new arena, and deservedly so. But at the same time, there's so much history here. And the way this arena is built, the fans being right on top of you and you feeling the electricity in the building, it's going to be sad to see it go."
Earlier, during the national anthem, something else hit Bryant -- this time, in the gut.
"I looked up in the rafters and I saw the jerseys of players that I was rivals with -- [Chris] Webber and [Vlade] Divac and Peja [Stojakovic]," Bryant said. "And I'm looking up there and I'm going, 'It was just yesterday I was playing against them and their numbers are retired. What the hell am I still doing out here?' So if I hadn't decided to retire before now, that would've made me retire immediately."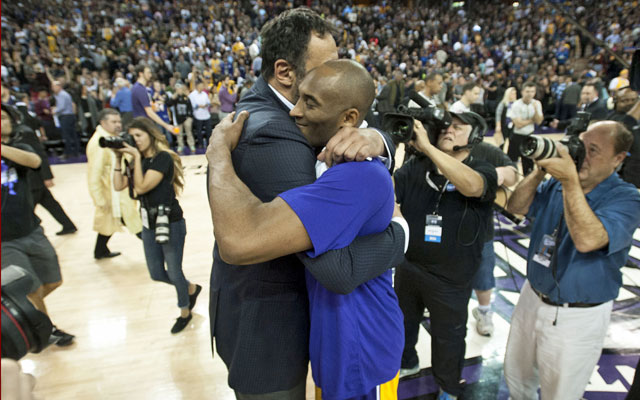 None of Bryant's rivals are intertwined with his career as Divac, famously traded to Charlotte as part of the draft-night deal that made a then-17-year-old Bryant a Laker in 1996. Divac went on to be a key figure for the Kings in those epic playoff battles against Bryant, Shaquille O'Neal and the Lakers -- none bigger than the 2002 Western Conference finals.
Now the Kings' GM, Divac still recoils at the mere mention of that series, won by the Lakers in seven games -- after a miraculous, buzzer-beating 3-pointer by Robert Horry on an offensive tapout in Game 4, which prevented the seemingly Finals-bound Kings from going up 3-1.
"We pushed each other to the limits," Divac told me before the game. "In those games, you were able to show your talent. They pushed us, and we pushed them to be better."
Bryant joked afterward that Divac had given him a retirement gift: A Charlotte Hornets No. 8 jersey.
"It's a great bond, because we've always had a tremendous amount of respect for each other," he said.
After all the drama of years past here, it was fitting that Bryant's last trip through town would be a rollercoaster ride. Bryant had missed the previous three games with a shoulder injury, saying, "I made sure I rested it enough to be able to play one last time here."
As he does everywhere now, he received an ovation during introductions. It was a moment that sent his mind spinning back to the raucous atmosphere at Arco before Game 7 of those conference finals in 2002, when the lights went down and the noise went up and the hecklers were so close -- because of the odd configuration of this relic of a place -- that he felt like they were on his back.
"You could just kind of feel the electricity in the building," he said, "and that was the best part of it."
On this night, his last hurrah on what he considers to be an oddly sacred basketball ground, Bryant gave the people what they wanted. In the second quarter, he put his head down and drove fiercely to the basket for an and-one. On the next trip, he unleashed his patented, turnaround, double-clutch jumper. Then he threw down a two-handed alley-oop; not one-handed, mind you, for fear of hurting his shoulder again.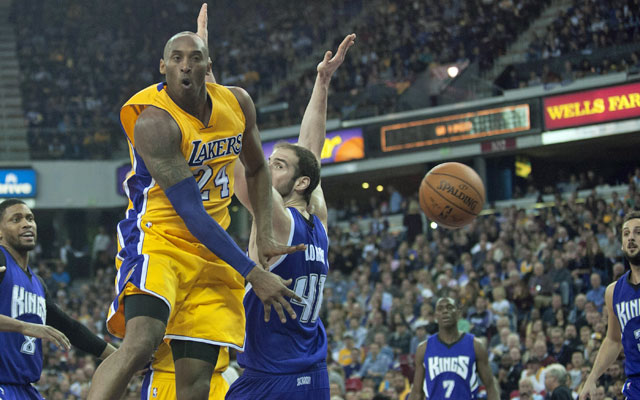 But Bryant was incongruously on the bench as Russell, the Lakers' future, buried 11 of his 27 points in a fourth-quarter flurry capped by a strong, right-handed drive to the basket that sent him out of the game with a sprained right ankle.
In a mad scramble down the stretch, Kings star DeMarcus Cousins tweaked his own ankle after Rajon Rondo stripped Jordan Clarkson as the Lakers tried to complete their comeback, trailing 116-115 with 21.7 seconds left.
"Y'all ain't seen nothing yet," Russell said afterward. "That's all I'm going to say."
With Bryant's farewell tour at full throttle and the Lakers desperately trying to connect the dots between eras, they've seen it all, truth be told. As Bryant made his way from the dingy visiting locker room at the former Arco to the press conference room one last time, an arena worker got his attention and briefly bid his own farewell.
"Thank you, Mr. Bryant," he said, "for the memories."
CBS Sports HQ Daily Newsletter
Get the best highlights and stories - yeah, just the good stuff handpicked by our team to start your day.
Please check the opt-in box to acknowledge that you would like to subscribe.
Thanks for signing up!
Keep an eye on your inbox for the latest sports news.
Sorry!
There was an error processing your subscription.
MVP candidates Kawhi Leonard and Anthony Davis meet to highlight Monday's NBA action

Anthony has been away from the Rockets with an illness, per the team

Also, the production from big men Serge Ibaka, JaVale McGee and Domantas Sabonis have been...
SportsLine's simulations also give the Warriors a 56.3 percent chance to win the title for...

L.A. has begun to turn things around, winning three games in a row -- albeit against lowly...

The four-time NBA All-Star seems to be in markedly different spirits now that he's out of...