Kobe Bryant's text challenged LeBron James after the first Decision
After LeBron James chose the Miami Heat in the summer of 2010, Kobe Bryant sent a text to LeBron saying to go get another MVP but he'd win the title.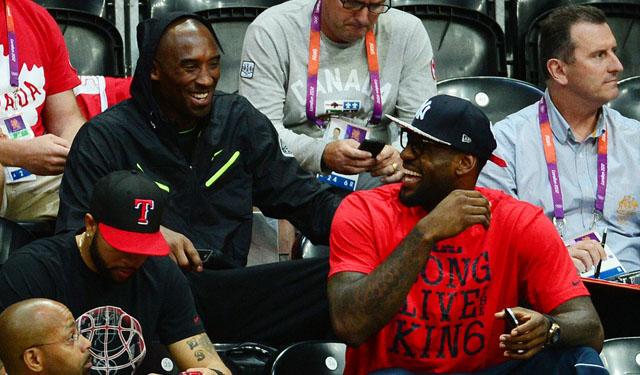 NBA players are constantly challenging each other both on and off the court. Bravado and confidence fuels the charge in hyper competitive environment in which wins and championship rings are the ultimate trump card when it comes to comparisons. The top players in the league and in the league's history are constantly measured against each other and it's the topic of a lot of discussion and debate amongst fans and pundits.
Back in 2010, LeBron James was hunting for those championships to add to his impressive but incomplete résumé. He joined up with Dwyane Wade and Chris Bosh on the Miami Heat, which prompted a little trash talk from Kobe Bryant. Bryant had just won his fifth championship with the Los Angeles Lakers. Kevin Ding of Bleacher Report tells us Kobe sent LeBron a text after The Decision, telling him to go get another MVP but the Lakers were going to win the championship. 
With a brutal seven-game victory over the Celtics in the bank for Bryant, the 2010 offseason is dominated by LeBron James' decision to leave Cleveland for Miami.

What matters to Bryant is Phil Jackson agreeing to return to coach the Lakers again in pursuit of a third consecutive NBA title. Bryant sends James a text message. It goes like this:

"Go ahead and get another MVP, if you want. And find the city you want to live in. But we're going to win the championship. Don't worry about it."
This is classic Kobe and it would be fun to have more stories like this come out. We get to see a bit of the trash talking on the court, but efforts to keep taunting from escalating into a brawl like we saw in Detroit nealry a decade ago tends to curb this kind of stuff. Kobe ended up being wrong, and hasn't made it past the second round of the playoffs since sending that text message to LeBron, while James has won multiple MVP awards and titles. 
However, you can hardly blame Kobe from challenging LeBron, who was getting all of the coverage of that summer after Bryant had just won a fifth title. It's these kinds of stories that fuel rivalries and a lot of fun around the game.
The former Slam Dunk Contest champion will take his talents to Tri-State

Do NBA players have look-a-likes from famous paintings? We found out on the new Arts & Culture...

Larry Hartstein is on quite a run in picks involving the Suns and the Trail Blazers
Rodman's agent says he is urging the ex-NBA star to check into rehab

The players and referees are working to fix a relationship that has recently been deterior...

The locker room heist is going to lead to plenty of fines and maybe some suspensions from the...