Kobe cleared for more, says he needs to get his 'fat a-- in shape'
Kobe Bryant is working back to good health from his torn Achilles, but maybe his biggest current obstacle is conditioning.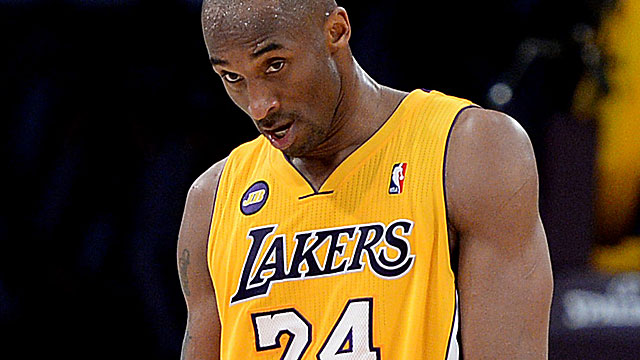 Kobe Bryant, you are now one of us. 
Speaking to reporters about his recovery from a torn Achilles, Bryant talked about one of his current biggest hurdles to returning to form -- conditioning. 
"I need to get my fat ass in shape," Kobe said, via ESPN LA. "Six months of eating whatever the hell I wanted to eat and not running caught up to me a little bit. So, I've got to get in shape."
That's really one of the overlooked things when a player recovers from an injury. During their time off, they aren't doing any of their normal activity. And when they finally get cleared, finding that conditioning is a real challenge. 
Bryant told reporters he's been given a "green light" to ramp up his rehab and workouts, though he's non-committal on when he may return.
"I just keep it all open right now," Bryant said Wednesday. "I don't know why you guys are so hell-bent on timelines. It's like the most ridiculous thing to me. It's entertaining. When I'm ready, I'm ready."
The first step in being ready is getting healthy and recovering from his surgery to repair his Achilles. The next step -- and the one Bryant seems to feel might be more difficult -- is getting back into game shape. He told reporters he needs three weeks of "rigorous conditioning" to be ready to play. Which means it's almost a lock that he wouldn't play in any of the Lakers five remaining preseason games and would most likely be looking at a return sometime late in the first month of the season, if that.
So lay off the donuts and maybe make that next pumpkin spice latte a non-fat with no-whip. It's rough, but if we can do it, so can you, Kobe.
The singer of the national anthem at the Nets game took a knee at the end

This was the Lonzo Ball people were expecting out of college

Antetokounmpo finished with 34 points, 8 rebounds, 8 assists, and 3 steals, but the Cavs won,...
John Wall is proud of his ability to block shots and thinks nobody at his position has been...

Giannis went at LeBron on a fast break, but LeBron won the matchup

Boucek most recently was head coach of the Seattle Storm in the WNBA