Kobe: 'It wasn't as bad as I thought'
After reviewing his performance in his first game back from an eight-month Achilles rehab, Kobe Bryant said Monday, 'It wasn't as bad as I thought.' But the Lakers clearly have some adjustments to make.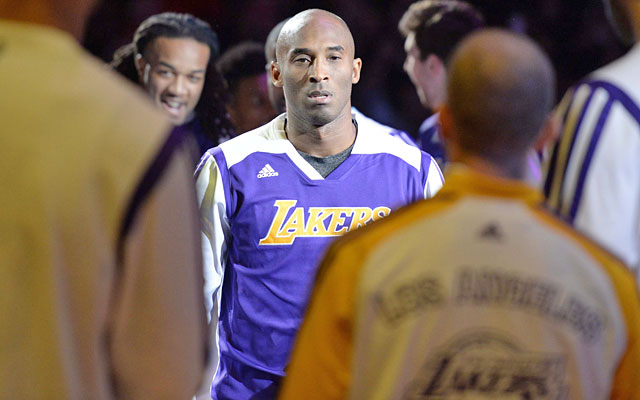 EL SEGUNDO, Calif. -- After a night to watch the film of his debut and sit in his infamous ice bath, Kobe Bryant had a different perspective Monday on his comeback from Achilles rehab.
"In terms of the flow of the game, it wasn't as bad as I thought it was," Bryant said at the Lakers' practice facility on the day after his return.
After the game, Bryant had given himself an "F," and described his form as "horse [expletive]." As he prepares for Round 2 on Wednesday night at home against Phoenix, Bryant likened the experience to a boxer taking a few punches and having to keep moving forward.
"In boxing, you kind of control the elements somewhat," Bryant said. "In basketball, you have things constantly coming at you, so there's only so much preparation you can do -- so many things outside of your control."
After going 2 for 9 from the field with nine points and eight turnovers in his first game in eight months, Bryant now has a day to recuperate before hitting the floor at Staples Center again. Then, he'll have two days off before the real grind begins -- a four-game road trip in five nights at Oklahoma City, Charlotte, Atlanta and Memphis.
"Once you kind of jump into it, you've just got to go for it," Bryant said. "Take care of your body and get the proper rest, like we all do, and see what you can do."
After 19 games without Bryant and one game with him, clearly he isn't the only one who has to adjust. Not a single Lakers starter scored in double figures, and Pau Gasol was more out of sync than anyone in Bryant's return. Gasol was 3 for 11 with seven points in the 106-94 loss to Toronto.
"I don't think it's that much of chemistry," said Gasol, who kicked the ball in frustration at one point during practice. "It's just positioning and changing rhythms out there. Mainly, I think that's what it's going to take -- understanding where he's going to be, where the ball is going to go, what kind of plays we're going to run, because that's going to also change. I think that's one of the bigger challenges that we're going to face."
Thomas spent a day with a 10-year-old girl whose family is also new to Cleveland

Barkley did not hold back with his opinion of the Big Baller Brand patriarch

We have all the latest scores, highlights and news from Wednesday's NBA games
LaVar Ball also made it clear he thinks his sons are being placed in 'a great situation'

The Thunder are just 12-14 on the season, despite the addition of Paul George and Carmelo...

The then-Heat teammates squared off during the 2011 ECF, but Erik Spoelstra put a stop to the...