Kobe looks better in second game back, but Lakers look worse
Kobe Bryant looked better in his second game back from an Achilles injury, but the Lakers looked worse. So begins the most unusual and uncertain challenge of Bryant's great career.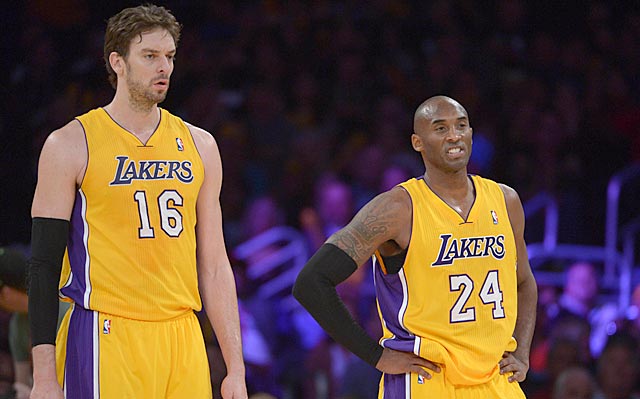 LOS ANGELES -- The Kobe Bryant experience was a little more as it had been advertised for the previous 17 years on Tuesday night. The result, however, was the same -- if not worse.
Kobe was more Kobe-like in his second game back from Achilles rehab than he was in the first. That was about all there was to be encouraged about for Lakers fans, except for the fact that they live in Southern California, where there really isn't much to be upset about.
Bryant reclaimed his territory in the mid-to-high post, operated there as though he had never left. He attacked the rim more, and even dunked. A dunk by Kobe Bryant elicited an avalanche of social media buzz, as if he had risen from the dead, brokered peace in the Middle East and cured cancer.
All he had done, really, was contribute to the Lakers' second successive loss, an uninspired 114-108 defeat at the hands of the plucky Phoenix Suns. Now, a team that can't stop anybody, won't chase loose balls and doesn't seem to know where to stand when Bryant is on the floor heads out on a four-game road trip over the next five nights, including the first back-to-back of Bryant's return -- at Oklahoma City on Friday night and at Charlotte on Saturday.
After explaining that his left ankle is "getting used to running again" because it "locks up" and "gets tight," Bryant brushed off a question about whether he's ready to play in back-to-backs at this stage.
"This is my job," Bryant said, after scoring 20 points on 6-of-11 shooting from the field and 8 for 8 from the foul line. "My ass is going to show up and play. This is what I do."
The job isn't getting any easier. The Lakers let the Suns shoot 52 percent, surrendering 49 points and 14 assists combined to the lethal backcourt tandem of Eric Bledsoe and Goran Dragic and 37 points and 11 rebounds to the Morris twins, Markieff and Marcus.
The way the Lakers are defending the paint, they need to send someone to find out if Dwight Howard has a twin somewhere that we don't know about and see if he'll sign for the non-guaranteed veteran's minimum.
"It's a little understandable and regrettable," coach Mike D'Antoni said of the confusion and chemistry woes that have reigned since Bryant returned. "... We're gonna have to toughen up. There's got to be a little bit more urgency in our game."
Any concern over whether Bryant would be able to push his stubborn ankle and 35-year-old body back into Kobe mode was somewhat alleviated. Bryant was much more comfortable offensively, setting up shop in the post and going to work in isolation as he always has.
"That's my go-to stuff," he said. "That's rhythm stuff -- catching it in the mid-post area, facing up and operating from there. That's stuff I've been doing for years, I feel very, very comfortable doing that."
It was the only rhythm the Lakers had.
"Now going to the basket is something completely different," Bryant said. "I didn't know if I was going to get above the rim or not, but I figured I'd just try it."
Next, the Lakers should try playing defense, preventing offensive rebounds and avoiding a collective state of confusion whenever Bryant touches the ball.
"It's a learning experience," Bryant said. "Since we are a young team, you have to constantly remember that it's a marathon, not a sprint. You have to allow them to play and to make mistakes and you have to be there to tell them and go over certain things that they can do differently."
Things that his teammates could do differently, or Bryant, too?
"It's both," Bryant said. "I've got to be able to communicate to them what some of those adjustments are and what some of those reads are."
Somehow, this is the challenge that has found Bryant after all these years of greatness. Now, he's the old dog having to learn new tricks with a team that doesn't know what to do and isn't ready to compete at the level he's so consistently demanded. It's going to take time -- time that, in the ultra-competitive West, the Lakers simply don't have.
"You knew he was going to have a great career," Suns coach Jeff Hornacek was saying before the game as he recalled competing against Bryant in the first four years of Bryant's career. How's that for a reality check: The next coach Bryant will face, Scott Brooks, also was in the league as a player in Bryant's first two seasons. Time flies.
"For it to be this long, as many times as he's been to the Finals, the Olympics, all that stuff, that's a lot of miles that he's put on," Hornacek said. "That's a tremendous accomplishment by him. Great athletes can do that. When they get older, they figure out little things to do that step up their game. You take Michael Jordan in his early years, he'd go dunk over everybody. And then he worked on a fadeaway jump shot and settled on that, and you couldn't stop that, either."
So the adjustment period is under way. He must adapt his game, his teammates must adapt theirs, and the proof will be in the results over the coming weeks and months. With two more years at a price tag of $48.5 million, we will begin to learn whether what we've seen during the past two games is a new beginning for Kobe Bryant or the beginning of the nostalgic end.
"It's part of the evolution," Bryant said. "It's figuring out what we have and how we adjust around that and figuring out what I can do and what I should be doing."
It's a little late in the game for Bryant to be figuring out such things, but this is where he is. This is the challenge that has found him. Where he's going and what kind of ride it will be, we simply don't know.
The Warriors used a huge third quarter to come back from a 23-point deficit to get the win

Three takeaways from Golden State's 24-point rally past the Sixers

Okafor has played only 25 minutes this season
Capela's shoe slipped off, and was sitting near the free throw line

The Magic will instead play in the Las Vegas Summer League

Ball walked away from an altercation between the Lakers and Suns on Friday night