Kobe pretty much only passes when his teammates yell at him
Antawn Jamison said that Kobe has instructed his mates to let him know when he needs to give it up. Otherwise, he'll fall into his own world.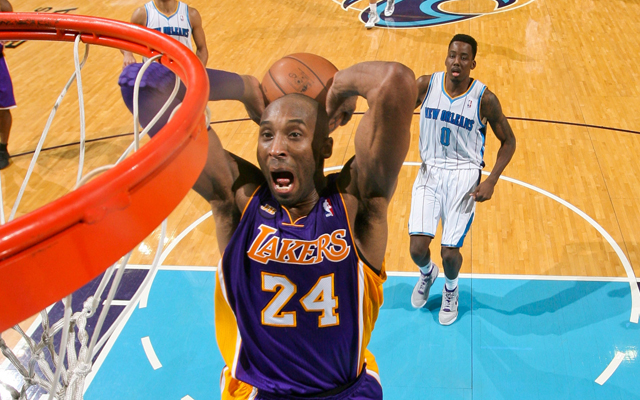 Kobe Bryant has a very specific reputation. Ultra-fierce competitor, tough as nails, immensely talented, one of the best ever.
And also a bit, let's say, self-reliant.
Kobe likes to shoot, because, well, he thinks he's going to make it. So this season as he's welcomed in a heap of new teammates and stepped into different roles playing scorer, facilitator, scorer again and then both, his teammates have had to learn how to adjust and communicate with him.
On ESPNLA 710, via ESPN LA, Antawn Jamison said that Kobe has instructed his mates to let him know when he needs to give it up. Otherwise, he'll fall into his own world.
"Kobe will tell you," Jamison said. "He's like, 'Look, you guys as my teammates, yell at me. Let me know that you're open because I'm so programmed,' and this guy has told me this, 'I see nothing but that basket. You could be open, there could be three guys on me, but the only thing I see is that basket so you have to tell me, Look, I was open. Or yell at me mid-play. That doesn't affect me at all and I respect that.'"

[...]

"I think the thing we've seen in the past was most teammates might have been afraid to come to him or express, 'Kob,' I was open,' or, 'That's not what we drew up,'" Jamison said. "The thing I like about this team, Steve Nash -- who is a Hall of Famer -- and Dwight [Howard] as well, Dwight and Kobe have gotten into shouting matches on the bench because Dwight will be like, 'Kob', that's your rotation. Get there.' And after the game he'll be like, 'Appreciate it, big fella. I needed that.'"
Jamison actually said there are times where he doesn't even have to tell Kobe. It's just a look.
"I come in there and I look at him a certain way, he'll be like, 'OK, Jamison, you're right. My bad,'" he said. "It takes a certain time for him to be able to trust us. I think the thing that he has learned now is that he can trust us."
Obviously, Kobe is the focus for the Lakers and will forever be, but the guy wants what everyone else does: to win. That's his mission, but his problem sometimes is believing that he's the lone answer to making that happen. He's as confident as any player in NBA history and that arrogance has opened the door for some magnificent shot-making displays, but it's also damaged his team. There's a balance to be had and that's something the Lakers are now trying to communicate.
The theory in bringing in a guy like Steve Nash was to limit Kobe's dominance of the ball, but at times, it becomes a Mamba takeover. But that's just life with Kobe. I bet when he shoots baskets on a Nerf goal with his kids, he's calling for the ball and taking three shots to their one. Like he said, he's programmed that way.
But it's about finding the balance that makes the Lakers most effective. Clearly, you want to involve Dwight Howard, you want to let Nash run the pick-and-roll, you want to let Pau Gasol operate (when he comes back). You want to space the floor for shooters.
But Kobe's still one of the best players in the league, and he needs his own room. It's just about figuring out the best way to fit the other pieces, which, evidently, sometimes requires some stern communication.
Kevin Durant was once again back in Oklahoma City

Gregg Popovich has never seen an injury lead to the issues that Kawhi Leonard has been fac...

Kobe Bryant, of course, had his 81-point game against Rose and the Raptors back in 2006
Keep it right here for all your Wednesday NBA scores, updates and highlights

A season-ending injury kept the Celtics guard's time at Duke very brief before he jumped to...

Here's a look at what has brought fans the most joy so far this season