Kobe responds to Phil Jackson comparing him to Michael Jordan
Phil Jackson says in his book Michael Jordan was a better leader, better defender and was physically stronger than Kobe Bryant.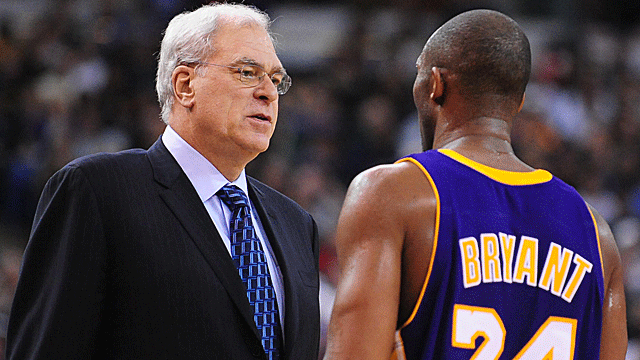 You know how Phil Jackson essentially picked Michael Jordan over Kobe Bryant while measuring the two against each other recently? 
Big shocker here: Kobe didn't like that. 
After Jackson said he'd take Jordan in defense, leadership and other areas, Bryant responded on Twitter.
The comparisons are #apples2oranges Wonder what the perception would be if M played wit @shaq instead #differentroles #differentcareerpaths

— Kobe Bryant (@kobebryant) May 17, 2013
Bryant's rebuttal kind of makes sense, but not entirely. Because the areas in which Jackson picked Jordan --- leadership, physical strength, defense, etc. -- really don't have anything to do with who Bryant did or didn't play with. I think Bryant is among the many who probably are misunderstanding or misrepresenting what Jackson said by taking it like this was some statement MJ was superior in every way to Bryant. 
An example from Jackson's comparison:
"One of the biggest differences between the two stars from my perspective was Michael's superior skills as a leader," Jackson wrote. "Though at times he could be hard on his teammates, Michael was masterful at controlling the emotional climate of the team with the power of his presence. Kobe had a long way to go before he could make that claim. He talked a good game, but he'd yet to experience the cold truth of leadership in his bones, as Michael had."
In all honesty, though, the fact this is at all a discussion and that Jackson finally felt it necessary to compare the two should illustrate how great Bryant has been.
Because really, he's the only current player whose resume you could try and stack up against Jordan's. That's really been unforunate for Bryant in some ways, because while he can't measure to Jordan, he's the only player who even remotely has a case. And people love to argue and discuss this stuff, so therefore, Bryant kind of gets the short end when it comes to this. 
Mirotic and Portis combined for 49 points as the Bulls won their fifth straight game, beating...

Gobert, who missed 11 games earlier this season with a knee injury, will have an MRI

Get all the latest scores, news and highlights from Friday's NBA games
Porzingis is questionable for Carmelo Anthony's return to MSG on Saturday

The Spurs and Rockets will renew their in-state rivalry on Friday night

Anthony will play at Madison Square Garden on Saturday for the first time since being trad...