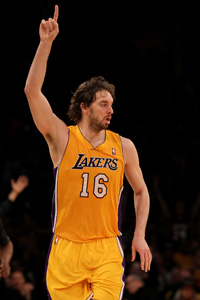 Gasol has struggled this year. (Getty Images)
A theme has emerged the past few weeks concerning the Lakers. Besides losing.
Pau Gasol just hasn't looked right.
He's having issues getting initiated into the offensive flow, he's passive, and he's not involved much on either end. He's averaging career lows in scoring and rebounding. Now maybe part of this is due to him dealing with tendinitis in his knees. Maybe it's the Mike D'Antoni system that he's having trouble getting acclimated to.
Whatever Gasol's excuse is, Kobe Bryant doesn't want to hear it. Following the Lakers' loss on Sunday at home to the Magic that dropped them to 8-9 -- in which Gasol scored just 11 points with seven rebounds -- Kobe put it bluntly: Put your big-boy pants on, Pau. Via Fox Sports West:
"Pau has to make some adjustments, obviously, to his game. He might not be posting up as much as he likes, but he just has to adjust.

"The reality is, I've adjusted. I've never run this many screen-and-rolls in my entire life. But I've worked on it. I've worked on handling the ball; worked on coming off screens and making plays. I'm used to being in the post much, much more. You have to adjust; you have to master what it is we're trying to do here. Pau's talented enough and good enough to be able to do that." [...]

"Put your big-boy pants on," Kobe said with a trace of disgust in his voice. "C'mon ... just adjust. You can't whine about it or complain about it. Heck, I'm 34 years old, and I'm running screen-and-rolls out there because Steve is out, and my ass is running up and down the court more than I ever have in my entire career. But you have to adjust to it."
Now, Kobe has been one of Pau's greatest defenders, especially recently with him saying if you traded Gasol, you'd have to trade him, too.
"As long as I'm there, he's going to be there," Kobe said regarding Gasol back in July.
There have been murmurings and rumblings on the Gasol trade front lately, but the Lakers reportedly aren't looking to trade him, yet.
Not having Steve Nash -- or really any point guard lately -- has hurt Gasol quite a lot. He's just sort of there offensively. He needs more setup, more help. Kobe says he just has to adjust. But that would probably be easier if the team's starting or even backup point guard was on the floor feeding him.
Consider this: Gasol's season-high is just 17 points. For a guy whose career average is 18.5, that's not very good.
Kobe's not running away from this. He's obviously happy with the personnel, or at least seems to be. He just wants them to all start playing.
"I'll kick everybody's ass in this locker room if it doesn't happen," Kobe told reporters after Sunday's game. "It's the attitude you have to have. Metta is the same way. Dwight has it in him as well. Even though he smiles a lot, he cares a lot about this. Come hell or high water, this has to get done."
Notice he didn't mention Gasol there? Kobe might literally be kicking his ass right now.