Kobe thinks NBA should replace him in All-Star Game
Kobe Bryant thinks another player should replace him in the starting five for the All-Star Game.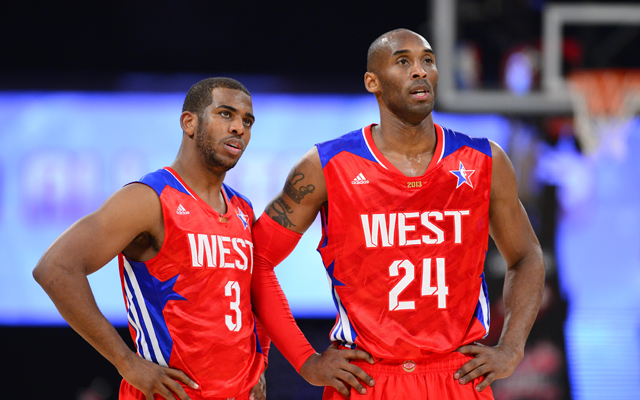 You guys didn't listen to Kobe Bryant. He told you to vote for Damian Lillard or some other young player, but you didn't. With 988,884 votes, you voted him into the All-Star Game, his 16th selection.
But he says you shouldn't have. And he plans to sit out. Via ESPN LA:
Having only played in six of the Los Angeles Lakers' first 43 games this season, Kobe Bryant does not feel he is deserving of his starting All-Star bid and plans to sit out the Feb. 16 game in New Orleans.

"With all due respect to the fans that voted me in, I certainly appreciate that, they know how much I appreciate that, but you got to do the right thing as well," Bryant said before the Lakers' 109-102 loss to the Miami Heat on Thursday night. "My fans know you got to reward these young guys for the work that they've been putting in."

Bryant spoke to the media just minutes after the league announced the starters for the 63rd annual All-Star Game next month.
Kobe hasn't played since Dec. 17 when he fractured his lateral tibial plateau, and before that he missed the team's first 19 games recovering from his torn Achilles. 
He says he plans to return to the lineup before the All-Star Game, but still doesn't think that should put him in the game.
"It wouldn't be enough to have me be deserving to play in the All-Star Game," Bryant said.
Here's the complication: Kobe said in the collective bargaining agreement, there's a clause that says if you're on an active roster and are elected to the team, you have to play if you're healthy enough to do so. Kobe plans on being healthy enough. He just doesn't think he deserves it.
"If I played [for the Lakers] before [the All-Star Game], the rule is you got to go in there and play or miss the next two games," said Bryant. "So, that just means somebody would have to lose a spot, unfortunately and the back-ups would be playing a lot, because I'd go in there and do my two minutes and sit out."
According to ESPN LA though, no such clause is believed to actually exist. So Kobe may be in the clear. 
The easy fix: Kobe sits, James Harden -- who will likely be a reserves when announced Jan. 30 -- starts, thus opening up an extra spot for a very deserving young player who might otherwise be cut, like Lillard, or Anthony Davis or whoever. 
Come on guys. What Kobe wants, Kobe should get.
Cavs star chose to be very secretive when talking to Lakers rookie after Thursday's game

New York announced Porzingis would not return shortly after star forward left game

Teletovic missed the final three months of 2014-15 season with Nets recovering from same i...
Keep it right here for all of the news, notes, scores and highlights from around the leagu...

The NBA's City edition Nike jerseys are bold and very different

The Wolves may be smoke and mirrors, but the Pacers have the look of a team that can hang in...