Korleone Young to Jeremy Piven: Journey down the rabbit hole
Starting with a tragic prep star like Korleone Young and ending up looking at Jeremy Piven's hairline. Kill some time down the rabbit hole.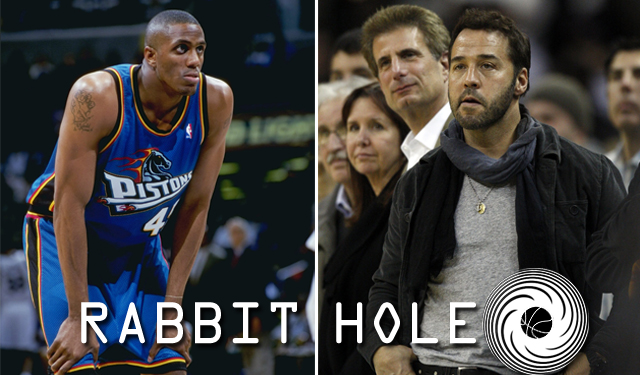 It's about that time again. Training camp is a week away for some teams and about 10 days away for everybody else. The shoelaces are getting tightened, the pounding of the basketball on the hardwood floor is starting to reverberate in the gym, and you're starting to wonder just where your team might fall in the standings this season. But before we get to that tip-off, we still have plenty of time on our hands.
Need to kill some time today? Let's get tangential down the rabbit hole.
First Stop: The frustrating tale of Korleone Young
Some basketball fans will never know the name Korleone Young. Young was a Detroit Pistons' second round pick in 1998 that ended up playing just one season in the league and a grand total of 15 minutes (but he had a 31.3 PER in those 15 minutes!). Back in 1998, he was supposed to be yet another promising prep-to-pro player when he declared for the NBA right out of high school. Young was a bruising 6'7" forward that was used to playing big as a man-child amongst teenagers. When he entered the NBA, all of that changed. Unless you're Chuck Hayes and built like a dump trunk (I swear that's a compliment), it's hard to make a career out of being a 6'7" big man in the NBA.
As Jonathan Abrams of Grantland writes in his incredible look at the rise and quick fall of Korleone Young, the kid out of Wichita, Kansas was just never prepared to deal with adjusting his game or his life as he entered a world of a lot of money and even more responsibility. Before the NBA though, Young was a dominant force in high school and the world of AAU basketball (Surprise! There are stories of corruption involving AAU basketball in this piece.) in a class the held an incredible amount of talent. In an excerpt from Abrams' piece, he mentions some of the NBA-caliber players that eventually joined Young's AAU team:
In 1992, Young joined the Children's Mercy Hospital 76ers, a talented Kansas City team coached by John Walker. That team eventually featured future NBA players

Earl Watson

, 

Maurice Evans

, Kareem Rush, and

Corey Maggette

. It was so competitive that Mike Miller, a key contributor to Miami's back-to-back championships, couldn't find a role during his short stint in the program. JaRon Rush, a silky forward and Kareem's older brother, was the team's most talented player. Tom Grant, a local millionaire, chief executive officer of LabOne Inc., and University of Kansas alumni, became Rush's benefactor. He paid for Rush's high school tuition and bankrolled the 76ers. JaRon was best friends with a player named Myron Piggie Jr.
The entire two-page story by Abrams is more than worth your time. Abrams is so good at crafting the story, sussing out incredible quotes and perspectives on the subject at hand, and explaining why maintaining a career in the NBA is so hard and can be taken for granted by really just about anybody. While most of us just toss these guys who fail aside from our awareness and move on to the next player, what gets lost is the fact that human beings then have to go on finding a life without any real preparation for the real world. 
Young was a high school phenom that stood out when he was side by side with guys that ended up carving out productive, extended careers in the NBA. But even the ones who didn't stick around in the NBA or really make it at all found a way to give us some YouTube highlights at some point.
Korleone Young's famous AAU teammates
You won't find much in the way of Korleone Young highlights on YouTube. If they're there, they're buried far beneath those horrible spamming videos that trick you into thinking you're actually going to get something more than a weird song choice playing to photographs of players. Those videos should be regarded as punishable crimes. The best you can do with Korleone Young highlights is his brief appearance in the 1998 McDonald's All American slam dunk contest. Young didn't win; Ronald Curry, future Oakland Raiders wide receiver and one-time point guard/quarterback combo player at North Carolina, took home the dunk contest victory.
It's not a good dunk contest by any means, but you do get to listen to a little Capone and Noreaga (even if it is edited). As much as I wanted to go down the Stromile Swift YouTube rabbit hole, it's time to stay focused on this current tangent. We'll save his celebrations for another time. 
As far as Young's AAU running mates, JaRon Rush and Earl Watson went on to play at UCLA together from 1998 to 2000 (Watson attended from 1997-2001). Looking for Earl Watson and JaRon Rush highlights on YouTube brings you to a game against the Maryland Terrapins back in 2000 when they faced each other in the second round of the NCAA Tournament. UCLA ended up destroying the Terrapins by 35 in that game and it was highlighted by the fact that Maryland refused to defend the same lob play run over and over.
Some of those lobs to Rush were a lot of fun, but I'm not sure anything was fun as watching Jason Kapono awkwardly wearing a headband tossing a lob to Earl Watson as Bill Raftery pretends to be dumbfounded by the lob thrower becoming the lob finisher. Also, if you want to kill 10 minutes by watching Kareem Rush and JaRon Rush play high school basketball, this is the video for you.
The mention of Mike Miller by Abrams' piece made me wonder if there were any AAU or high school highlights of Miller from the mid-90s. Turns out I couldn't find any but in a search for them, I did come across some AAU highlights of a team piloted by Kevin Garnett and Robert "Tractor" Traylor from roughly 20 years ago.
The level of athleticism and talent on this team seems unfair, although we have no idea how good the competition was in this contest. However, with KG and Tractor on the same team, the level of competition going against them probably rarely mattered. What's fun about this video is you can see Garnett toward the end of the video on the bench (in what I can only assume was a blowout) working on his dunk contest celebrations from the crowd. 
Battles with
Al Harrington
There's another part in Abrams piece in which he discusses a showdown game between Korleone Young and Al Harrington after Young transferred to Hargrave Military Academy in Virginia:
Hargrave put Young in the spotlight. In January 1998, he squared off against St. Patrick High School and their star forward Al Harrington at Madison Square Garden, a must-see for high school hoops fanatics. Both players were ranked at the top of their class in a time before Rivals.com and premier high school players routinely played one another. Harrington was dominant that night, compiling 28 points and seven rebounds. Young's play was uneven. He scored 14 of his 20 points in the second half after an incensed Piggie addressed the team during the break — just as within the AAU program, he had worked his way into the inner circle at Hargrave and gained the trust of the coaching staff. Young turned the ball over seven times before fouling out with two minutes left in a tied game, but Hargrave ultimately prevailed, 63-59. Despite his underwhelming performance, the win solidified Young's standing among major college basketball programs.
Since I couldn't find any real highlights of Korleone Young, I decided to check and see if there were highlights from Al Harrington, possibly shown in his NBA Draft video the night he was selected by the Indiana Pacers during the 1998 draft. What showed up is a video about the 1998 rookie transition program that at one point shows a very surprised and seemingly happy Harrington discussing about how much he learned from this program.
Probably my favorite part is probably the end when the photographer says, "One, two, three, we love this game" with about as much enthusiasm as the majority of these players probably had when they were told they had to attend this program and couldn't bring women up to the room. 
With Harrington, he's always been a boisterous player and not afraid to speak his mind on and off the court. It's part of what makes him such a fun veteran voice to have around any team. Do a search for an Al Harrington highlight mix (how else are you supposed to spend your time?) and this clip of him and Paul Pierce talking trash to each other before Pierce drops a game-winner over Harrington will pop up.
Couple of things about this video: First, why would referee Joe DeRosa tell them to cut out the trash talking in that situation? What harm is it doing? Secondly, check out this .gif I found of Al Harrington.
What does that have to do with the video I showed you? Absolutely nothing. But it's fun.
Corey Maggette deserves his own section
We saw a couple of highlights from Corey Maggette in the dunk contest video up above, but it didn't really show the athletic freak that he used to be. Not only was he built like a body builder at the age of 18 but he also was one of the more explosive college basketball players in the 1990s. Here's a big putback dunk he had against Temple:
Perhaps hypothesizing that Maggette could be the greatest Duke player ever if he stays all four years wasn't the way to go? The least surprising part of this video is that William Avery missed a shot.
Maggette was part of a generation of high-flyers that popularized slapping the backboard after dunks. We'd see them throw down, pull themselves up on the rim a bit, and then slap the glass. It was almost like they wanted some dap or a high-five from the backboard for giving it a close-up shot of their athleticism. There are a few in this highlight video below:
Trying to find Corey Maggette highlights on YouTube isn't hard at all. The most common thing you're going to come across is the infamous travel video in which Maggette does a little shuffle action with his feet before turning the ball over and clotheslining Maurice Evans. One thing you'll come across is this bizarre farewell to Maggette once he was no longer on the Milwaukee Bucks. During 2010-11, Maggette played 67 games for the Bucks before being traded to the Charlotte Bobcats. Maybe you didn't find his time in Milwaukee to be noteworthy, but that didn't stop "MilwaukeeBucksMixes" from commemorating the experience:
Watching this video, one can only assume that 90 percent of Maggette baskets with the Bucks came on plays in which he cut along the baseline.
Common's tie to basketball takes a weird turn
If you check out Maggette's Wikipedia page (and why wouldn't you?), you'll notice near the bottom that it mentions he was in Common's "Drivin' Me Wild" music video. If you ever wanted to see Maggette posing with a family and then see Lily Allen singing while wearing an astronaut costume, this is the video for you:
In the video, we not only see Corey Maggette's cameo but we also see a brief cameo from Jeremy Piven. One might assume that if you wanted to tie Common to basketball then you'd just immediately jump to the movie "Just Wright" in which he plays an NBA superstar that can't actually dribble a basketball and falls in love with Queen Latifah as she helps him recover from a devastating knee injury. That's too easy of a jump and it gets disqualified from being classified as a basketball movie because the final sequence of "NBA play" in the movie involves strategy and events that would never happen the way they're depicted. 
There's also a point in which Rashard Lewis runs the point in an All-Star Game and Bobby Simmons made the All-Star team in the East. Should you watch that movie if it's on?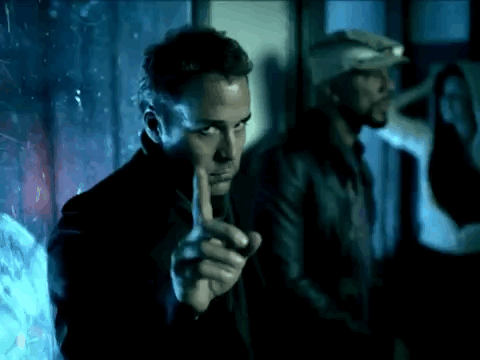 The easier way to tie Common to basketball is by going straight to the cameo in the music video. I'm not talking about Corey Maggette; I'm talking about Jeremy Piven, of course.
The mystery that is Jeremy Piven
The former Entourage star Jeremy Piven is actually quite the basketball connoisseur. I don't say that because he shows up to a lot of basketball games (which he does) but because he's apparently a trick shot artist and once starred in "inspirational" NBA Playoff promos for TNT.
Piven discusses Kobe Bryant needing to wait for his teammates to catch up, then Cleveland star LeBron James being greater than Grover Cleveland, Tim Duncan's lack of charisma, possibly eludes to the future of Steve Nash becoming a Laker someday when he talks about throwing MVP trophies into a lake, telling the Mavericks to give nightmares to someone else right before they were bounced in the first round by an eight-seed, and gives oddly timed shoulder shrugs throughout. Retroactively sign me up!
Then there's the trick shot he pulled off while Vinny Del Negro, Rick Fox, and Ronald McDonald stood there with bated breath.
This is all kinds of impressive, but not as impressive as two things the Jeremy Piven rabbit hole sent me down. I've always had a soft spot in my heart for Jeremy Piven because his first scene in the movie "Old School" is one that is incredibly underrated in that movie. It's hard to see him and not say out loud, "Cheeeeeeeeeeeeeeeeeese." It's also hard to see him and not think he's incredibly short. Even on film, when the camera is supposed to add 10 lbs and five inches of height, Piven looks wee. 
However, if you search for his height online, it consistently comes up that he's 5'10", which is kind of baffling. I assume it's due to lifts in his shoes or the equivalent of NBA listed heights that never quite match up to reality. I'm impressed to find out that Piven may in fact be 5'10" despite what my eyes tell me. This could be the ultimate test of advanced stats (height measurement) and the old Eye Test.
The second thing that impresses me about Piven is there is a video online of his ever-changing hairline. At some point in his career, it appears he either got hair plugs, Rogaine, or a really great toupee. I don't fault him for it either; it looks good. But if you want to see the transformation from the biting comedy days of "PCU" to his role of Ari Gold, click play on the next video:
Cheeeeeeeeeeeeeeeeeeeeeeeeeeeeeeeeese!
How the addition of IT changes the Cavs and where they go this summer depending on LeBron's...

Ainge said that he expects the start of Thomas' season to be delayed, but he'll be 'fine'...

The NBA MVP odds have shifted quite a bit following the blockbuster Kyrie Irving - Isaiah Thomas...
It's debatable whether Boston gets better right away with Irving, but the future is definitely...

Kyrie Irving was set to grace the cover of this year's video game in a Cavs jersey -- whoo...

The Cavs were up against a wall and came out with assets now and for the future