Korver, McLemore, Ariza among Cavaliers' reported trade targets
Cleveland wants an upgrade on the perimeter and there is a host of names they've reportedly gone after with the deadline seven days away.
The Cleveland Cavaliers are still looking to tweak their roster. Despite a 38-14 record and an excellent chance at making the NBA Finals for a second year in a row, the Cavs have been linked to all manner of small trade rumors in the past week. 
•First, ESPN's Brian Windhorst reported on Cleveland radio that the team has expressed interest in both Tyreke Evans and Omer Asik. Evans is off the table as he's going to be out several weeks following knee surgery. Asik is a name that makes you cock your head sideways, since he's in the first year of a five-year deal that pays him an annual salary of over $9 million over the next two seasons before escalating from there. The Cavaliers are pretty clearly trying to dump Timofey Mozgov, whose confidence has eroded to the point of dust this season, but Asik is a phenomenally slow center who was exploited significantly in the Pelicans' first-round series vs. the Warriors last season. Do the Cavs really want to add a player they won't be able to give minutes to if they reach the Finals? 
•Windhorst also reported that the Cavs have expressed interest in Hawks shooter Kyle Korver. Mike Miller departed this offseason and adding a veteran pure shooter that they can play at small forward instead of James Jones would be a boon for the Cavs. LeBron James prefers to play with multiple shooters and one big, so Korver would fit. He's also a total professional, something the Cavs have been lacking in terms of locker room culture. Korver has fallen off in terms of 3-point percentage this season, prompting concerns about his age, but has returned to form for the most part over the past month. 
•Meanwhile, Cleveland.com's Chris Haynes has a slew of other names the Cavs could be targeting, which includes Sacramento's Ben McLemore and a buyout interest in Joe Johnson, among other names. 
The Cavaliers, among with a handful of other Eastern Conference teams, have strong interest in trading for Sacramento Kings guard Ben McLemore, league sources told cleveland.com.
Houston's Trevor Ariza, Atlanta's Kyle Korver and Washington's Jared Dudley are all on the Cavaliers' radar, but landing one of those three is highly unlikely.>If Joe Johnson secures a buyout in Brooklyn, league sources are adamant Cleveland would "snatch him up" for the veteran minimum.
Source: Ben McLemore receiving trade interest from Cleveland Cavaliers, handful of other Eastern Conference teams, sources say | cleveland.com. 
Ariza is a name that needs to be focused on here. Johnson's pretty evident, and if the Nets go that route, he will indeed give the Cavs another wing scorer who can play either position. However, he has fallen off to a large degree as he has gotten older, though he can still contribute. 
Ariza is very interesting. Ariza has been a disaster in Houston this season along with, you know, every other Rockets player. Even his typically superb defense has been a mess. But how much of that is the chemistry and overall team malaise and how much is Ariza is debatable. What is not debatable is that Ariza is a tall, long defender with great range who can play small-ball four and stretch the floor, something that James would likely welcome in a heartbeat. 
McLemore is a talented young wing who has languished on the Kings' bench in George Karl's Inexplicable Doghouse of Lore, joining pretty much every young wing who has ever played for Karl. However, his youth and lack of experience as a shooter are concerning. Still, he's shooting 37 percent from deep this season and has improved each season. That's a "buy low" steal for the Cavs if they can pull something off. 
Windhorst reported the Cavs tried to engage the Kings in a deal involving Mozgov but were rebuffed. This is funny, if only because the Kings already have Kosta Koufos, who along with Mozgov made up the center rotation in Denver during Karl's last season there. 
The Cavs seem pretty insistent on wanting to make a tweak. None of these deals mention Kevin Love and it's assumed he's off the market. However, we likely have not seen the final Cavs roster as it will be come playoff time. 
HT: Real GM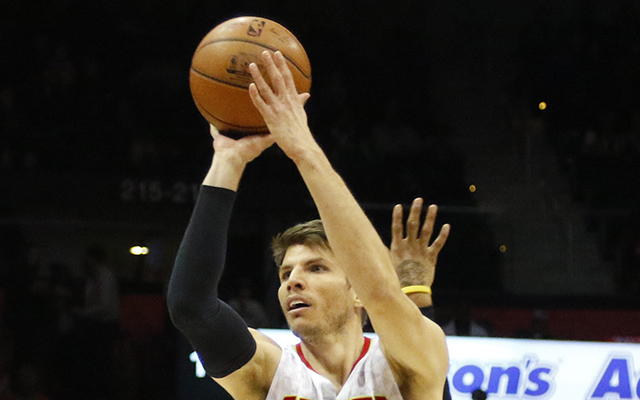 Stephen Oh has his finger on the pulse of the Rockets and locked in a play for Friday

SportsLine's Mike McClure, a DFS pro with more than $1M in winnings, gives optimal lineup...

We break down which rookies have been most valuable to their respective teams so far this...
Will the Mavericks follow Mark Cuban's wishes and start losing?

Kuzma says he had to step his fashion game up when he joined the NBA

The Rockets will try to extend their 10-game winning streak