Kris Humphries' Kardashian engagement ring auctions for $749k
Celtics forward takes a bath on $2 million engagement ring with proceeds going to charity.
True love never dies. Whatever it was between Celtics forward Kris Humphries and Kim Kardashian gets sold for $749,000. Christie's auction house finalized the sale Wednesday of Humphries' engagement ring he had given Kardashian in May 2011 for $749,000, with a portion of the proceeds going ot charity. The ring had reportedly cost $2 million when the then-Nets forward decided to pop the question. 
So how nice was this rock, exactly?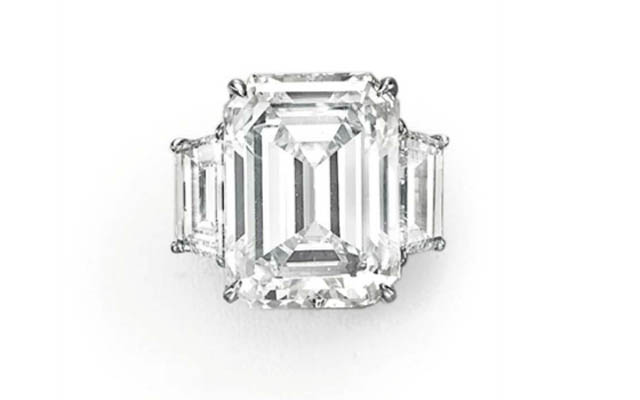 Oh. 
If you're wondering, according to Christie's, that's 16.21 carats on the middle diamond, flanked on either side by a 1.80 carat diamond, encased in platinum. So in a lot of ways, it's a lot like the one I got my wife, if you took out the center diamond the two diamonds around it, the platinum, and replaced it with a much smaller stone. Other than that, dead ringer. 
Humphries and the reality star who kept her string of stellar choices in men running by hooking up with rapper Kanye "Yeezus" West. The couple had their first child in June named North, which is ironic since there's a 100 percent chance that the kid's parents' relationship will go south. 
As for Humphries? His public image took a beating over the proceedings, and he was voted the NBA's most disliked player in 2011. Since then, though, at least he's got a sense of humor about it. 
One day at a time, Kris. One day at a time. 
HT: Beyond the Buzzer via The Point Forward
Stephen Curry, who grew up in North Carolina, wants to be part of the next Panthers ownership...

Vince Carter is destined for a Raptors reunion; he doesn't know when it'll happen

Thomas has a target date for his return, and with the Cavaliers scorching, this could be h...
LeBron James once again is using his platform to be socially active

Not many games, but still plenty of action and intrigue Sunday in the Association

Kobe Bryant had a solid piece of advice for back in 2016 when he left OKC for Golden State