Kwame Brown exercises option to cling desperately to deal with Sixers
Kwame Brown will not be a free agent as he exercises his 2014 option for $2.95 million, Ken Berger reports.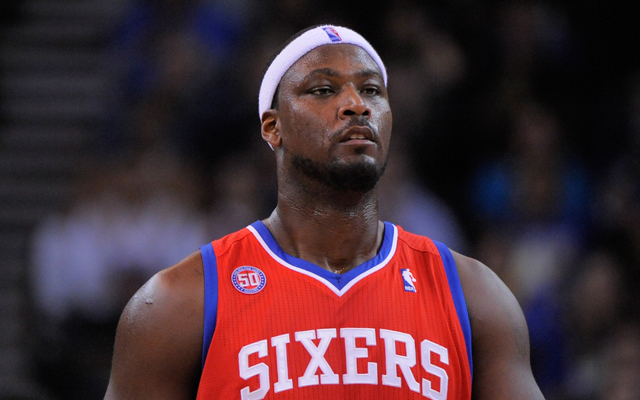 I mean, if you were Kwame Brown, you'd hang on to the money, too, right? 
Ken Berger of CBSSports.com spoke with Mark Bartelstein, agent for Philadelphia 76ers center Kwame Brown, who confirmed that the notorious former No. 1 pick will exercise his option for 2013-2014 at $2.95 million. 
Brown played just 22 games last season for the Sixers and missed the first three months of the season with a calf injury. Former head coach and head of basketball operations Doug Collins had brought Brown in with expectations of him starting alongside Spencer Hawes. He thought this was a good idea. Ad not for tanking purposes. 
Collins stepped down after the season. 
It's not all bad for the Sixers, though, as Brown represent an expiring contract they can use in trade talks or to clear cap space for 2014 as GM Sam Hinkie continues his major rebuild of the entire team. 
All jokes aside, Brown has had moments where he's been useful. And he can provide Noel with valuable advice on how to handle the pressures of being a raw big man with big expectations, while giving the Sixers meaningful minutes defensively.
The Sixers traded Jrue Holiday to acquire Kentucky center Nerlens Noel along with a 2014 protected first-round draft pick on Thursday.
Irving made it clear he wanted to start camp on a different team, and the Cavs made it hap...

James, and the other principals, will be judged by what come's next for the Cavaliers and...

A look at who came out ahead after Tuesday's megadeal swaps the point guards on the East's...
How the addition of IT changes the Cavs and where they go this summer depending on LeBron's...

Ainge said that he expects the start of Thomas' season to be delayed, but he'll be 'fine'...

The NBA MVP odds have shifted quite a bit following the blockbuster Kyrie Irving - Isaiah Thomas...