Kyle Lowry agrees to 4-year, $48 million contract with Raptors
Toronto will ink its best player to a four-year contract.
• 2 min read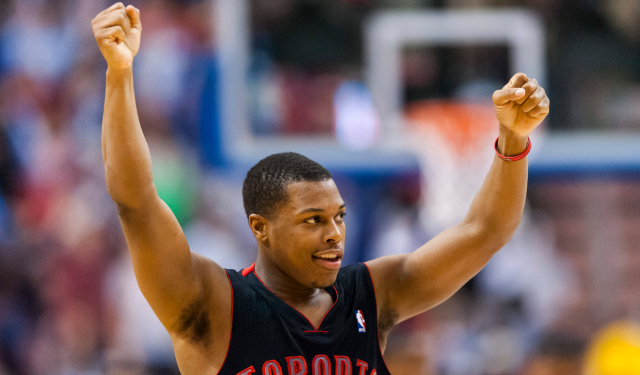 More Offseason Analysis: Coaching changes, news | Free Agency | Draft
The Toronto Raptors and Kyle Lowry  have agreed to a four-year, $48 million contract, according to Adrian Wojnarowski of Yahoo Sports. The deal will reportedly include an early-termination option after the third season.
Kyle Lowry tells Yahoo: "Toronto is just the right place for me."

— Adrian Wojnarowski (@WojYahooNBA) July 3, 2014
Lowry enjoyed a career season in 2013-2014, leading Toronto back to the playoffs for the first time since 2008, where the Raptors lost to the Brooklyn Nets in a seven-game series. He was arguably the best point guard in the Eastern Conference, averaging 17.9 points, 7.4 assists and 4.7 rebounds per game and making 38 percent of his three-pointers in the regular season.
"Negotiating is easy for me if we want Kyle to be here and Kyle wants to be here," Raptors general manager Masai Ujiri said at his end-of-season media availability in May. "Negotiating becomes tough when either party maybe does not want the player to be here or the player does not want to be here. I think we'll be fair with Kyle and we'll figure it out." 
The Miami Heat, Houston Rockets and Los Angeles Lakers were all mentioned as potential suitors for Lowry's services, but the Raptors locked him up on the second day of free agency. 
At Lowry's end-of-season availability, he said that he could see himself back in Toronto. At that point he wasn't willing to commit to anything, but he said he loved the situation and the chemistry of the team.
"It's very difficult, but at the end of the day it's still a business and you have to be a businessman for the situation that you're in," Lowry said. "But I am very happy. This has been one of the best seasons I've had through and through. Best coaches, teammates, upstairs. It's been great. I am happy. Without a doubt I can say I'm happy."
With a $12-million-per-season contract offer, the only way you could see Lowry turning the Raptors down would be if he wanted to go chase a championship. Instead of latching on somewhere else, though, he's elected to build on the success he had last season. Toronto has to be relieved, as losing him would have been a massive step backward.
Lowry confirmed the news on his Instagram account, with, "This ain't Amir jersey y'all!! Lol..... it's for the 2014-15 season cause Toronto will be my home city" as the caption to this photo:
There's no shortage of moments to choose from

The Trail Blazers almost traded for Charles Barkley, but when they didn't, it put them in debt...

The self-proclaimed ASG snub Williams may be bitter about Butler requesting to sit out Sun...
The commish said they were overly conservative with the decision this year, but that should...

A dive into the NBA history books for every result from every NBA All-Star Game

James set the tone during practice that this year's All-Star Game was going to be differen...