Kyle Lowry: 'I want to play for a championship'
Free-agent-to-be Kyle Lowry spoke positively about his experience in Toronto, but also said his goal is an NBA title.
• 2 min read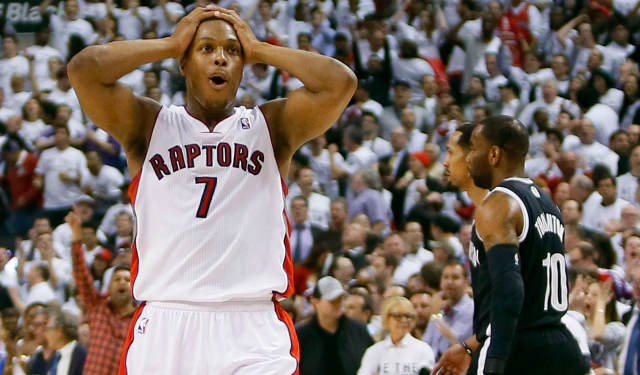 More Offseason Analysis: Coaching changes, news | Free Agency | Draft
Kyle Lowry, who will be an unrestricted free agent next week, has numerous options. The point guard enjoyed a career season with the Toronto Raptors, who would love to have him back. They're a team on the rise, and they started two sophomores last year. If he went back there, he and the team could build on what was accomplished in a season he described as "fantastic and a joy to be a part of," via Basketball Insiders' Alex Kennedy:
When Lowry looks at the Raptors' roster, he gets optimistic and thinks that the best is yet to come. If he were to re-sign with Toronto and the team returned as currently assembled, he believes the future could be bright. When asked how good the Raptors can be, Lowry doesn't hesitate.

"Honestly, I've thought about it and I think the answer is very good," Lowry said. "We have a lot of very good young pieces. It all starts with DeMar [DeRozan], and I think Jonas [Valanciunas] and Terrence [Ross] could be really good. I think that the team as a whole could be really good. Last year was a great year; we had a bunch of guys who just wanted to go out there and win games. Everyone was very unselfish and knew what was at stake and wanted to be a good team. I think the team is very talented. I think it's very good upside for the Raptors."
You'll notice he started his answer by saying "we," then ended it with "the Raptors." Free agency is funny. Anyway, Lowry has talked about how much he loved being in Toronto before. He's said he is comfortable with the organization, and he wants to do what's best for his family. What's new is that he mentioned his goal of competing for a title:
"I think the right situation is somewhere I'm winning and being happy, and honestly I want to play for a championship," Lowry told Basketball Insiders. "I'm happy with making the playoffs and doing that, but the end game for all players should be a championship and that's what I want to play for. I want to play for a championship."
With the caveat that every player wants to win a championship, and that sentiment would be shared by the Raptors organization, fans in Toronto will parse those words and be scared. The Houston Rockets, a potential suitor for his services, would be able to offer him a chance to compete for a title immediately, even in the tougher Western Conference. If he's willing to take a pay cut, the Miami Heat would reportedly be interested in acquiring him, too. The Raptors can put him in a good situation, but it would be a massive stretch to call them contenders as currently constituted.
All of this is complicated by the fact that Houston is said to be chasing LeBron James and Carmelo Anthony, and Miami is trying to keep its Big Three together. It might be wisest for Lowry to wait for the dust to settle with the superstars before making his decision. In the meantime, there is pressure on Toronto to improve the roster and make as compelling a case as possible for him to stay.
Oklahoma City has reportedly offered the MVP a five-year extension worth over $200 million

The big man was a big part of the Warriors' championship run last season

The Cavs jokes were out in full force after Golden State reportedly agreed to sign Antonius...
New York seems to be at the top of Irving's list of preferred destinations

Is it just a normal workout, or is LeBron continuing his recruiting efforts?

Chris Bosh answered on the spot about the LeBron James and Kyrie Irving situation