Kyrie Irving admits he hasn't been a leader, looks to learn from veterans
Cavaliers guard says new leaders including Shawn Marion, Mike Miller and LeBron James can help him take the next step.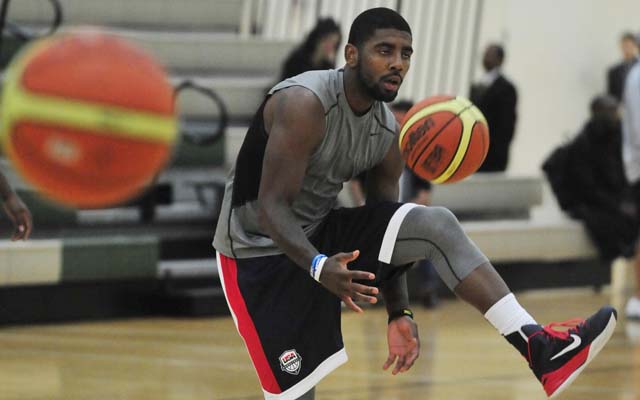 Offseason: Free Agency | Latest from Ken Berger | Rumors
Cleveland Cavaliers guard Kyrie Irving spoke with RealGM.com at Team USA practice Monday and admitted that he's struggled with leadership in the past, which is why he's grateful so many veterans are joining the team along with LeBron James. 
"I haven't been a leader – not at all," Irving told RealGM.

"Everybody asks me if this is my year to be a leader … I haven't been so far though, not at all," Irving said. "I've just been a kid trying to figure it out. There's no perfect way to be a leader, and coming in as a 19-year-old kid and having everything bearing on your shoulders, there are a lot of ups and downs. Now it's about being the best every single day and not being afraid.

"I'm more than excited with our new veterans. I'm really excited just from the standpoint of how the locker room is going to go and how to really be a professional. I'm not saying that the veterans that we had weren't professionals themselves, but we didn't have enough. Given the right and wrong things to do in the league, I've had to learn on my own and that's what some of us been doing.

"Now, we have guys who've been in the league for years, guys who've won championships and have had to give a piece of their game for the greater good of the team. It's something I admire and something I'm going to learn from."
via Kyrie Irvings Transformation Starts With Admission He Needs LeBron Cavs New Vets - RealGM.
Iriving has come under fire in past years for his approach. His attitude was a question mark last season, there were rumblings of a conflict with Dion Waiters, and he bailed on Fan Appreciaion Night a year ago. 
But now, honestly, he doesn't have to worry about that. He's got guys like James, Mike Miller, and Shawn Marion. When James went to Miami, he had leadership issues himself that he worked through by learning from Miller and Ray Allen (who is also rumored to be interested in joining the Cavaliers). Irving can learn in much the same way, and that will help him later on. 
Now, that's assuming he has that kind of capacity. Some players simply aren't leaders, just like in any field. But Irving's talent and ability to run an offense should translate well. If the Cavs are as successful as it seems they will be, he's about to learn a lot about what it takes to be great in the league, both in terms of play, conditioning, and leadership. 
Paul may be getting a late start in Houston, but he promises to unlock some key role playe...

Lonzo doesn't want to throw away money for a tech, which isn't a great look for the rookie

Davis left the Pelicans' game against the Nuggets in the third quarter
Popovich was upset about an out of bounds call

Wall went 3-for-12 from the field, and had just eight points in the Wizards' loss

Noah was reinstated from his 20-game suspension on Monday, but is yet to play for the Knic...