Kyrie Irving: 'I'm pretty sure I'm going to be here for a long time'
Cleveland Cavaliers' point guard Kyrie Irving responds to internet rumblings that he is looking to get out of Cleveland and go to a new team.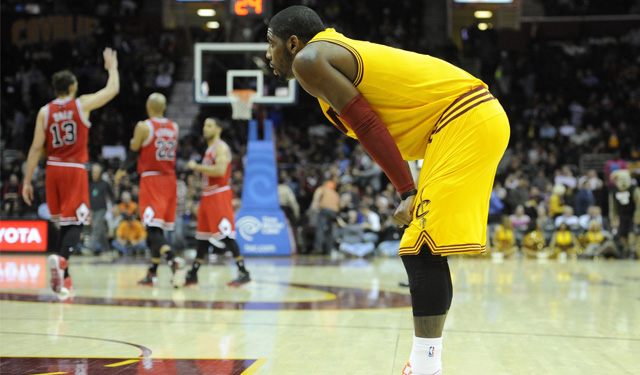 One of the most consistent parts of the new NBA is that when a mid-to-small market team has a bright young star on a rookie contract and there are big market franchises currently struggling, you'll start to hear rumblings of the young player trying to get out. It's likely influenced by LeBron James' decision in 2010 and the realization that young guys may not waste the first seven to ten years of their career playing short-handed anymore. That's why we start looking for which young star might be the next guy to break the heart of a fan base by leaving.
The latest is Cleveland Cavaliers' point guard Kyrie Irving. There were internet rumblings from a comment in an online chat Thursday that started to go viral. They said that Irving was looking to find his way out of Cleveland, even though he has yet to even reach his second contract. Thursday, Irving answered these rumors by stating he's happy where he is and is "pretty sure" he's going to be there for a long time. From the Akron Beacon Journal:
"There's been so much so-called reports coming out that I don't want to be here. That's what you guys get paid to do, but that's just so much negative attention," Irving said following the Cavs' 117-86 loss to the Knicks. "I know we're struggling, but it's not about me. It's about our team. It's about us fighting every day for each other and me fighting for my teammates. 

"Yes, I'm in Cleveland. I enjoy myself. I enjoy going out and competing at the highest level for the Cleveland Cavaliers. That's what it's about. It's not about me and it's not about this controversy, 'Do I privately want out when my contract is up?' I'm still in my rookie contract and I'm happy to be here. And I'm pretty sure I'm going to be here for a long time. I'm not saying anything to tell the future, but I'm pretty sure the relationship I have with Dan Gilbert and management extends off the court. I enjoy being here."

When told he can sign a lucrative contract this summer, Irving said, "I'm aware of that," but stopped short of saying he'd sign here long term.
There are two ways to take these comments. First, Irving is strategically speaking with possible outs in case he decides to force his way out of Cleveland when his restricted free agency period is coming up. He's pretty sure? He's aware of his contract extension opportunity this summer but won't speak further than that about the situation? He's not directly saying those are false rumors? It's a little too political for my liking! He's clearly speaking in ways that vague enough to give him wiggle room if he can find his way out.
Second, it's such a ridiculous throwaway comment from an online chat and he's focused on basketball that he didn't give perfect statements in regards to this situation. He didn't come out and flat deny it or say he's 100 percent committed to staying with the Cavs because he shouldn't have to when he's in the playoff hunt and trying to help figure out how to get his teammates to win. 
Irving is eligible for a full max contract extension this summer that could lock him up for five years. It's almost unheard of for a star coming off of a rookie deal to not re-up for at least a three-year extension and they never take the one-year qualifying offer to become an unrestricted free agent the next summer. 
The NBA broke its silence with a statement related to the Lakers-Paul George tampering cha...

The Clippers big man thinks LeBron will reunite with the banana boat crew at some point

Have the Clippers reportedly found their next GM?
The NBA stayed to the point in their response to the Greek basketball federation

The Pacers believe the Lakers tampered with Paul George before they traded him

Among the questionable decisions by Jackson was signing Noah to a long-term, lucrative dea...