Kyrie Irving won't comment on Byron Scott's future with Cavaliers
Kyrie Irving won't comment on Byron Scott's future in Cleveland.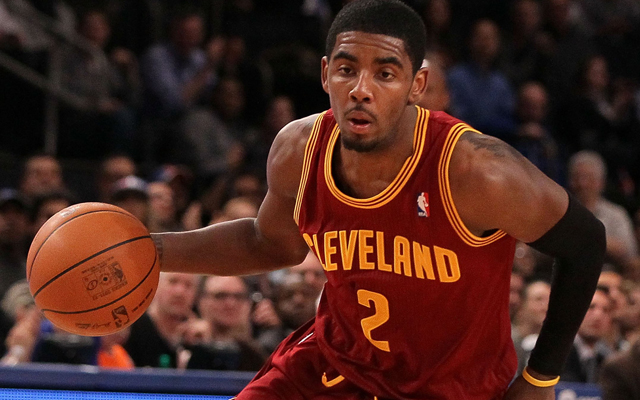 Kyrie Irving told reporters Monday he won't comment on the security of Byron Scott's job as head coach of the Cavaliers. 
"Until that time comes, I'm not really worried about it," Irving said. "To even imagine that, I'm not going down that road.

"I'm focused on finishing the season with him and that's all that matters right now."

It's believed Scott still has the support of the Cavs' best player despite a brutal stretch that saw them snap a season-high 10-game losing streak Friday in Boston. Irving often has credited the coach for helping him through a first season that culminated with Rookie of the Year honors.
via Kyrie Irving declines to discuss future of Byron Scott: Cleveland Cavaliers Insider | cleveland.com.
So this is a tricky situation. You don't want to blame Irving when he didn't say anything that would indicate a lack of support. But when you read between the lines, this is not a comment of support. Irving can simply say, "I hope he doesn't get fired. I love my relationship with him. It's been a tough year, but that's not up to me." In doing so, he can stick up for his coach and yet not put the organization in a bind if they want to make a change. 
In reality, Scott shouldn't be on the hot seat. He lost Anderson Varejao for essentially the entire year, lost Irving for a huge portion of the season, lost Dion Waiters down the stretch, and the rest of that roster is a mess. The organization built a team whose success was predicated on Waiters having a Rookie of the Year-level season, and that was a bad approach. Scott has done the best he can with a bad situation. He's earned some patience, at least for another season. 
Wade leaving Chicago is reportedly a matter of when, not if

Wiggins might have to find a unique way to sign the paperwork sent to his now former agenc...

The Cavs ultimately got a good haul for Irving, but could have landed the Dubs' All-Star s...
The King acknowledged the mega trade late on Tuesday, calling Kyrie a 'special talent/guy'

Winger reportedly accepted the job after being offered last week

Irving isn't only switching teams, but also numbers