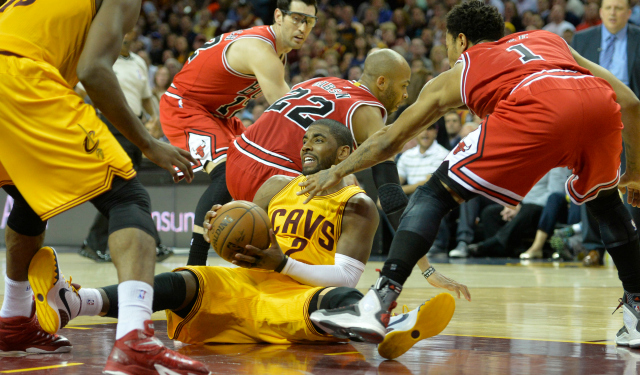 Kyrie Irving is a fan of "Whiplash," the fantastic 2014 film about a young jazz drummer and his instructor. In fact, the Cleveland Cavaliers guard connected with it so much that he decided to start a playoff ritual, via ESPN's Dave McMenamin:
As he surfed his Apple TV he spotted the title of a movie that Kobe Bryant -- one of his two basketball idols growing up, along with his dad -- had mentioned in an interview as appealing to him: "Whiplash."

…

"It's just about the drive to be great," Irving told ESPN.com after the Cleveland Cavaliers' stirring 106-101 win over Chicago in Game 5 on Tuesday when asked about "Whiplash." It spoke to him so much that he's taken to writing the title of the film on his shoes before games during the playoffs. "It's awesome."
I do not for a moment dispute the awesomeness of "Whiplash." It is phenomenal. It's probably important to reference that interview with Kobe Bryant, though. From Chuck Klosterman's GQ feature:
The reason Bryant needs to leave at 10 A.M. is because he's working on a documentary for Showtime titled Kobe Bryant's Muse. He seems exceedingly interested in filmmaking at the moment, so I ask if he's seen Whiplash. "Of course," he replies. Whiplash is about a psychotic music instructor (J. K. Simmons) who physically abuses and emotionally manipulates a self-driven jazz drummer (Miles Teller) until the teenage musician both collapses and succeeds. Thematically, the film suggests an idea that has been mostly erased from modern popular culture: the possibility that inhumane, unacceptable treatment is sometimes essential to the creation of genius. I ask Bryant what he thought of Whiplash. "That's me," he says, although I can't tell if he means the Simmons character or the Teller character. He might mean the entire movie. In any case, he's acutely aware of the draconian strangeness of his own personality and of the downside to his ambitions, two characteristics he views almost interchangeably.
I don't think it's a spoiler to say that the instructor is essentially a sociopath. I also don't think it surprised anybody on the planet that Bryant saw "Whiplash" and liked it. In late February, Bryant appeared on "Jimmy Kimmel Live" and said he related to J.K. Simmons' character.
It's interesting that a film set in a music school is connecting with elite professional athletes like this. It might also be a little worrying, depending on how they think about Simmons' character. In any case, Irving's mindset appears in line with the film. The point guard is going through what he called the biggest mental challenge of his career, playing despite knee tendinitis and a foot sprain. Irving scored 25 points in Tuesday's Game 5, going 9-for-16 from the field. Others might have sat out, but he kept at it.
"Whiplash" (in pretty nifty cursive) penned on the side of Kyrie Irving's sneakers pic.twitter.com/snV4dbug4G

— Dave McMenamin (@mcten) May 12, 2015