La La Anthony believes Carmelo Anthony will re-sign with Knicks
La La Anthony, wife of Carmelo Anthony, believes her husband will re-sign with the New York Knicks this summer.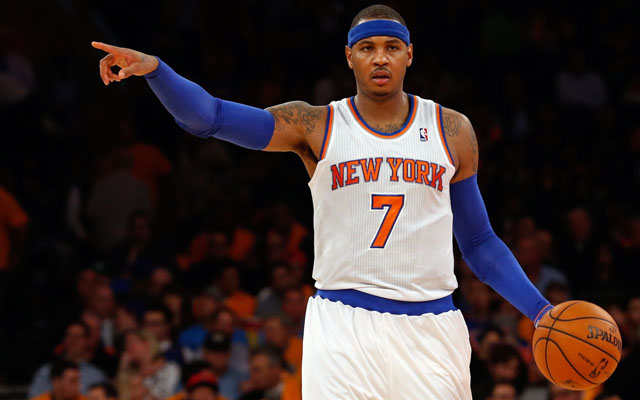 Carmelo Anthony has a tough decision to make about his future this summer. He's expected to opt out of the final year of a three-year, $64 million extension he signed after being traded to the New York Knicks. Why opt out of a season that is slated to pay you over $23 million? Well, the Knicks can re-sign him for five years and $129 million while other teams can offer him upwards of four years and $96 million.
What will Anthony do? If you're on Bravo TV's "Watch What Happens Live" show, you'll ask his wife La La Anthony about her husband's plans this summer and where he'll want his next NBA contract. She believes he'll re-sign with the Knicks. From ESPN Chicago:
La La Anthony "definitely" thinks her husband, free-agent-to-be Carmelo Anthony, will re-sign with the New York Knicks this summer.

"I definitely think he will stay [in New York]. I know that he wants to stay and I support him wherever he wants to go," La La Anthony said in an interview with Bravo TV's "Watch What Happens Live." "Listen, I used to live in Denver with him. If I can live in Denver, I can live anywhere. I just want him to be happy."
There you have it. She didn't enjoy living in Denver and after either Vanderpump Rules, The Real Housewives of Beverly Hills, The Real Housewives of Atlanta, Shahs of Sunset, The Millionaire Matchmaker or Top Chef she unloaded this bomb on us on live television while talking to probably Andy Cohen. 
Even though the Knicks are a mess right now, passing up nearly $130 million could be too much for Anthony. They also should have the opportunity to add big pieces alongside him if they're patient when they clear up a lot of cap space in 2015. However, that will require an acceptance of relative mediocrity and zero panic moves until the summer of 2015. That's asking a lot of James Dolan.
Wade opted in to his $24 million player option earlier this summer

Barkley spoke to the NFL Today crew about the response the president received in his home...

The restricted free agent has a deal in place that will keep him with the Bulls after a st...
James' support continues his trend of social activism on social media

The newly-acquired All-Star thinks the addition of Anthony boosts the Thunder in the NBA's...

The Knicks were asking for the house in discussions for Carmelo Anthony