Lady Gaga reschedules concert around Pacers-Wizards Game 6
Apparently you can read her poker face, but that's OK, the best solution for Wizards fans is to just dance and hope their team plays like monsters.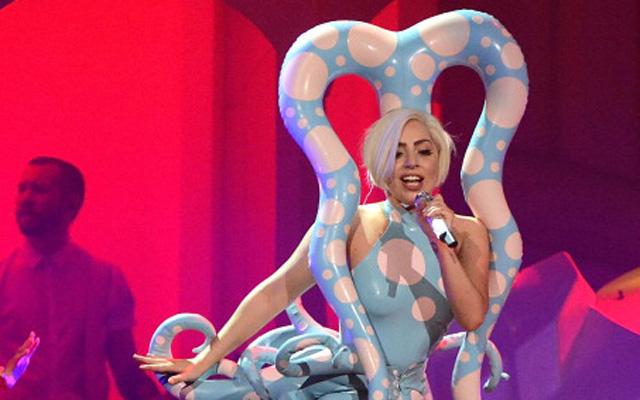 More postseason coverage: Playoff schedule, results | Latest news, notes
The Wizards were a "hopeful" playoff team to start the year. Once they accomplished that goal, everything else was gravy. Game 1 win vs. the Bulls? Gravy. First-round series win vs. the Bulls? Gravy. Taking Game 1 vs. the Pacers? Hey, this is getting interesting. 
Except, it became interesting in a non-basketball-wise. See, apparently whoever does scheduling at the Verizon center didn't foresee the Wizards making it this far. Because they booked a concert on the 15th, which is when a potential Game 6 would be. No big deal, it's just a little-known artist named Lady Gaga.
Whoops. 
The dates for the seven-game series have already been set, but if the series extends to six games, the Wizards would have a scheduling problem on May 15 because of a Lady Gaga concert that is already booked for that night. The Wizards released a statement on Saturday night that read, "We are aware of the potential conflict and are working with the promoter in the event Game 6 is necessary, more information will be released when it becomes available."
via Wizards get Pacers in Eastern Conference semifinals.
Luckily, disaster was averted as the pop-fashion diva-mogul was gracious enough to accommodate the team. 
Lady Gaga caves to #Wizards! #Verizon Ctr concert postponed til May 12th--to make room for possible 6th playoff game! @wusa9 @GameOnWUSA9

— Andrea McCarren (@AndreaMcCarren) May 6, 2014
Of course, those who had cleared their schedules for the event, only to find it moved for a basketball game are... not taking it well. No, I mean, they're really not taking it well. 
I have a solution, though. Gaga has a concert pre-game, plays at halftime, and then plays after. Sure, the ticketing, seating, and arena configuration makes this literally impossible to pull off, but when have we as a society ever let a thing like reality get in the way of our dreams? 
Of course... if the Wizards lose, we're going to have to go  ahead and say it was the Curse of Gaga. There's really no other way. 
The former Clipper apparently had some tricks up his sleeve after a chippy game

The Rockets were apparently looking for Austin Rivers and Blake Griffin after a chippy gam...

If they don't meet in the Finals again, let's appreciate every one of the 27 matchups since...
D-Wade picked up the steal and got creative on the fast break as the Cavs headed into half...

Despite the embarrassing hiccup, the youngest Ball had himself a pretty great day on the c...

The players were both ejected in the closing seconds, then continued their discussion off the...