Lakers, Celtics held preliminary talks involving Howard, Rondo
The Lakers and Celtics have discussed a trade involving Dwight Howard and Rajon Rondo.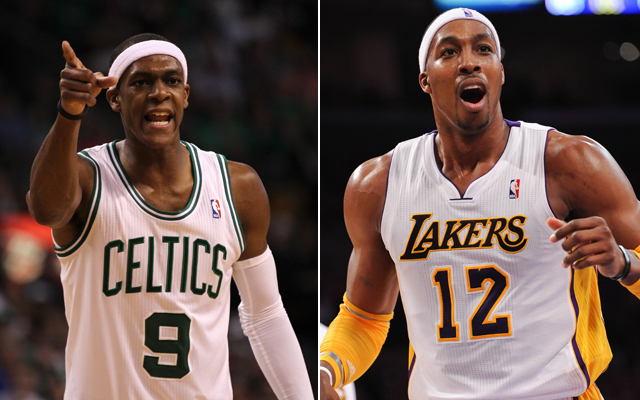 Could ancient rivals help each other?
(Getty Images)
Ken Berger of CBSSports.com reports: 
However, CBSSports.com has learned that the Lakers have engaged in preliminary trade discussions with an unlikely trade partner regarding Howard: their fierce rival, the Boston Celtics. The centerpieces of the possible deal, which hasn't gained any traction, would be Howard and Rajon Rondo.
via What's right for Dwight? Will Lakers deal Howard?
So, you know, kaboom. 
Berger stresses that the talks were preliminary and have not advanced. Howard told reporters on Friday that Mitch Kupchak had informed him he would not be traded. Who knows where and how that fits in with this timeline. 
Even the fact that the two teams have held discussions given their long-standing mutual distaste for one another shows how far the two teams have fallen from preseason expectations. It takes a lot for the Celtics and Lakers to discuss a trade of two of their biggest stars. 
Boston's consideration of trading Rondo is mystifying because he's out for a year following his ACL surgery. It's interesting for the Lakers since they already have Steve Nash. Would you play Rondo and Nash together? Move Nash? The implications are huge, and those questions are likely part of why the deal has not gone forward. 
For Boston, it might give the Celtics the best chance to make a run this season, and gives them a big to build around in the future. With Kobe Bryant and Howard clearly not meshing, adding Rondo to the Lakers might be a better fit, outlook wise. Bryant has repeatedly praised Rondo's attitude and work ethic. His approach fits much better with Bryant. 
Regardless, even with a deal highly unlikely at this time, the fact that the Celtics and Lakers discussed a Rondo-Howard deal is going to send shockwaves through the league. 
You can follow Eye on Basketball on Twitter @EyeOnBasketball. Follow Matt Moore at @MattMooreCBS and like us on Facebook. 
Jonah Keri talks with NFL and NBA broadcaster Ian Eagle

SportsLine simulated Wednesday's Nuggets-Clippers game 10,000 times

Galin Dragiev has his finger on the pulse of the Lakers and just locked in a play for Wedn...
No more McNuggets allowed in the Barnes household

Leonard has played in only nine games this season for San Antonio

Pierce is set to have his jersey retired on Feb. 11, but there's been a lot of controversy...