Lakers' center Dwight Howard wants to play on Team USA in 2016
Los Angeles Lakers' center Dwight Howard wants to play on Team USA in the Rio de Janeiro 2016 Summer Olympics.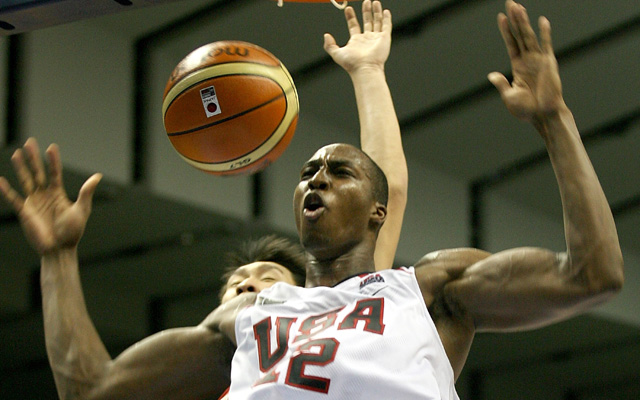 Could Team USA use another big man?
(Getty Images)
Team USA basketball has established itself as the best basketball roster in the world. During the 2012 London Olympics, a roster led by LeBron James, Kobe Bryant, Kevin Durant, Chris Paul, and Carmelo Anthony won Team USA's second straight gold medal and the fifth gold medal in six tries at the Summer Olympics since NBA players started finding their way into the games.
One name missing from the star-studded cast of American players was Dwight Howard, who was healing from back surgery and unable to play. Normally, he would have been the starting center on the roster, but he had to give way to New York Knicks' big man Tyson Chandler to protect the rim for Team USA. Would Dwight like to rejoin his fellow countrymen in 2016 when the summer games find their way to Rio de Janeiro, Brazil? From the LA Daily News:
Dwight Howard won't ever publicly divulge whether he will re-sign with the Lakers this offseason until that moment comes.

But he sounded certain on whether he wants to play in the 2016 Olympics in Rio de Janeiro, Brazil.

"No doubt," he said.

"I was (upset) mad I couldn't play in the playoffs and mad I couldn't play in the Olympics," Howard said. "I wasn't too happy with the fact I had to have surgery and miss a lot of basketball."
Does Team USA necessarily need Howard on the roster? Even with Spain's large frontline of Marc Gasol, Pau Gasol, and Serge Ibaka, Tyson Chandler and Kevin Love were able to do a pretty good job fighting for rebounds. The small lineup of Team USA gave every country fits as they overwhelmed them with perimeter play and transition offense.
But it couldn't hurt to have a healthy Howard back on the roster. Chandler will be 33 by then. Howard will be 30 years old and still (presumably) in the prime of his career. With other young big men like Love, Blake Griffin, and Anthony Davis possibly on the roster, we could see Team USA throwing big, small, and regular lineups to overwhelm any opponent that comes their way. 
It would also be fun to have him blocking shots and finishing alley-oops from some of the best passers this country has to offer. 
(H/T - SLAM Online)
We've got you covered for all the scores and highlights from Sunday's NBA games

Kyle Kuzma is tired of how his teammate Lonzo Ball is being treated

The Warriors used a huge third quarter to come back from a 23-point deficit to get the win
Three takeaways from Golden State's 24-point rally past the Sixers

Okafor has played only 25 minutes this season

Capela's shoe slipped off, and was sitting near the free throw line