Lakers coach Mike D'Antoni defends Howard during free-throw woes
Los Angeles Lakers coach Mike D'Antoni isn't going to bench Howard in the fourth quarter because of Hack-a-Howard strategy.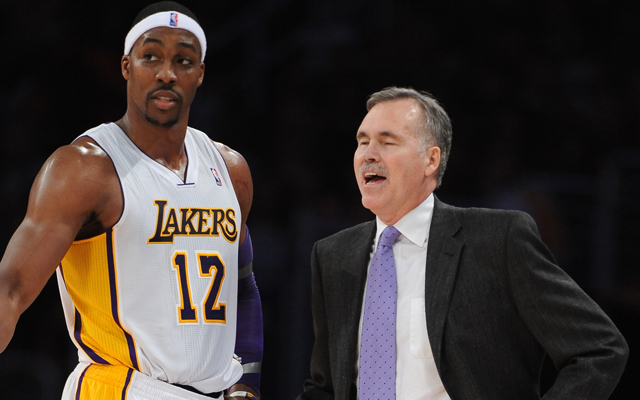 Mike D'Antoni will stick with Dwight Howard late in games.
(Getty Images)
Perhaps, you've noticed that Dwight Howard has been going to the free-throw line a lot in the fourth quarters of games recently.
Normally, people would complain about superstar calls when a player is averaging four free-throw attempts per fourth quarter. It's something that hasn't been done since Shaquille O'Neal averaged four free throws per fourth quarter in the 2001-02 season. That season, Shaq made 56.2 percent of his fourth-quarter free throws. It wasn't a great show of accuracy by any means, but it was higher than his 55.5 percent for the season.
Howard is averaging 4.3 attempts per fourth quarter, and he's making just 42.5 percent of them. Teams are regularly going to the Hack-a-Howard now and feasting on poor defensive rotations on the other end of the floor. So is it possible that coach Mike D'Antoni will bench Howard to avoid these situations at the free-throw line?
Lakers Coach Mike D'Antoni was incredulous when a reporter relayed a question from Lakers fans who wondered why D'Antoni didn't remove Howard from the game.

"Because they have no clue what they're talking about," D'Antoni said. "It's pretty simple. You don't do that to a guy and he made his foul shots. He's not the reason that our defense breaks down. He's not the reason that stuff happens. He's got to work through this.

"If you take him out now, then what are you going to do? Are you going to take him out all the time? You've got a player who's going to be your franchise player, you don't do that to him. And it's not him that's causing the problem."
I wrote after the recent Orlando game about how Dwight's free-throw shooting in the fourth quarter, during the Hack-a-Howard strategy, wasn't the problem. And I stand by that. In the past two fourth quarters, he has been intentionally sent to the free-throw line and made half of his 24 attempts. 
That's right: He has taken 24 free-throw attempts in the fourth quarter of the last two games. That's an astounding number. That he has made one point for each of those possessions is still what the numbers bear out to be good offense. D'Antoni believes this, and so do I. 
The problem, though, is the defense. If you're not able to get more than one point per possession over an extended period of the fourth quarter, you certainly can't give up more than one point per possession during this time. The Lakers' fourth-quarter defense continues to be atrocious. They've given up 74 points in the last two fourth quarters.
If you're going to have bad defense, you can't have bad free-throw shooting. And if you're going to have bad free-throw shooting, you can't have bad defense. Ideally, you'd have both good free-throw shooting and good defense, but that doesn't seem to be an option for the Lakers now.
With Dwight being so bad at free-throw shooting right now, it seems like the easiest way to remedy this is to play better defense.
LeBron appears to be one of the two team captains for the 2018 All-Star Game

We've got all the scores, highlights and news for Thursday night

Arron Afflalo was involved in an altercation with Timberwolves big man Nemanja Bjelica on...
Fergie and Canadian rock band The Barenaked Ladies will sing their respective national ant...

Based on Gentry's tongue-in-cheek price, Boston is highly unlikely to acquire the big man

Larry Hartstein is 22-11 in ATS picks for or against the Timberwolves and has a play for T...