Lakers deny Rex Chapman tweet that Calipari will coach the Lakers
Former Wildcat says John Calipari will take over for Mike D'Antoni ... who hasn't been fired yet. Lakers refute the statement.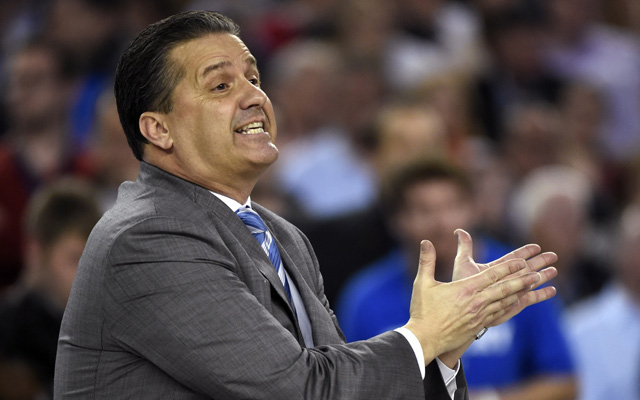 More NBA: Power Rankings | Expert Picks | Seasons in Review | Playoff Picture
Update 9:36 p.m.: The Lakers acted fast to refute the rumor. 
Lakers are refuting Calipari to Lakers story put out by Rex Chapman before NCAA tip: GM Mitch Kupchak says "rumor is untrue"

— Chris Dufresne (@DufresneLATimes) April 8, 2014
Former Kentucky Wildcat and NBA veteran Rex Chapman tweeted Monday before the Wildcats faced UConn in the national championship game that Coach John Calipari is headed to LA... to coach the Los Angeles Lakers. 
Was messin' 'round on Sat nite re: Cal. But word is - win or lose 2nite - it's a #DoneDeal ...Cal 2 La-La-Land 2 coach Mamba's Lakers. #NoBS

— Rex Chapman (@rexchapman) April 7, 2014
I mean, Chapman is connected to the Kentucky program. And Mike D'Antoni has reportedly been on the hot seat with reports indicating that Kobe Bryant is not keen on him returning next season. And Calipari has long been linked with interest to various NBA coaching jobs. 
But this seems a little weird, particularly the timing of it. Is Rex Chapman really that plugged into the situation?
If it is true, the big question is what Kobe Bryant would think of it. Is he on board with a coach whose first run in the pros with the Nets didn't end well, especially the part where his tream drafted Kerry Kittles over Bryant? (Calipari has maintained he was forced into that decision.)
It would be a bold move for a franchise looking to revive itself faced with serious challenges in returning to contender status. We'll see what happens after the national championship game. 
Chris Paul sat out the fourth quarter of the Rockets win due to an apparent knee injury

Durant couldn't quite get the shot off in time, and the Rockets prevailed

Draymond Green walked off the floor limping and rubbing his knee in the third quarter
Golden State raised its second banner in three years. Now they start their run for another

Hayward's injury left the Celtics shocked for a moment.

The 11-carat rings hold more diamonds than any other ring awarded in any other major sport...