Lakers' Dwight Howard says players trying to hurt his shoulder
Los Angeles Lakers center Dwight Howard believes opponents are trying to hurt his injured shoulder early in games.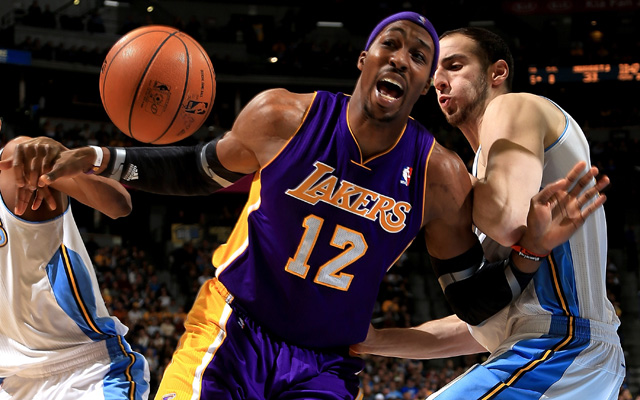 'Stop hitting yourself.'
(Getty Images)
With the much ballyhooed commotion over Dwight Howard's shoulder injury and people wanting him to set the pain aside and play through it, it makes sense that the Los Angeles Lakers center would become a bigger target than normal. The NBA can be a rough league, and players will sometimes take advantage of an injured player by going after his injury on the court.
Howard's torn labrum in his right shoulder isn't going to be any different. Over the past couple games, he said, he believes players are targeting the shoulder and trying to hurt him. Via Yahoo Sports:
The pain flared just moments after tip on Sunday.

On his first trip down the court, Dwight Howard felt Miami Heat players grabbing at his injured right arm.

"They got me early," he told Yahoo! Sports in the quiet of the Lakers locker room after Sunday's 107-97 loss. "They would yank it back."

Howard said the Bobcats did the same thing in Charlotte Friday night – even worse, in fact.

"It's like a jolt," he said. "Then it hurts the rest of the night."
Kobe Bryant recently made comments about Howard needing to play through the pain, which prompted a response from the big man and even his father. Howard is playing through a lot of pain right now, which should be commended on some level. And yet, with the Lakers not winning a lot of games, nothing will probably be commended until the Lakers look like a playoff team again.
So is Howard right? Are the Lakers' opponents targeting his shoulder early and often?
He claimed that the first trip down the floor, the Miami Heat players were grabbing at his arm to hurt his already painful shoulder. The first play of the game was a Heat possession that ended with a Udonis Haslem basket. There wasn't any severe or abnormal contact with Howard and his arm. The first Lakers' possession could have resulted in what Howard was describing.
As you can see in the video, there is contact between Howard and Haslem on the play. Is Haslem purposefully grabbing at Dwight's right arm to put pressure and strain on that injured shoulder? It's hard to truly determine whether or not that's the case. Haslem is being physical with Howard and not letting him gain position. Their arms definitely get tangled at one point, but was it an intentional pull?
That's going to be tough to prove. 
However, there was a foul later in the game in which Mario Chalmers pulls down on Dwight's right arm to prevent a shot at the rim.
But is this any different than a normal foul you'd give someone like Howard inside to prevent the basket and potential three-point play?
It's likely the shoulder is so susceptible to pain right now that any decent level of contact or physicality is going to produce the pain he's describing when he says players are targeting the shoulder to gain an advantage against him. This is the price he will have to pay until the shoulder is healthy enough to not feel pain when there is contact.
Until then, expect Howard to feel targeted by his opponents, even if they aren't doing it intentionally.
San Antonio's track record speaks for itself, but they've made a few puzzling moves this o...

The Kings top pick thinks your burgers are trash, California

Popovich added that Trump is 'unfit intellectually, emotionally, and psychologically' to be...
Larry Hartstein turned in a massive profit to close last season and locked in a pick for R...

Too many stars and not enough spots on the upcoming season's All-NBA teams

It appears Philadelphia will continue to be extremely cautious with its potential franchise...