Lakers' forward Antawn Jamison jokes he robbed some teams
Los Angeles Lakers' forward Antawn Jamison has made a lot of money in his career, but admits there were some years he was "robbing people."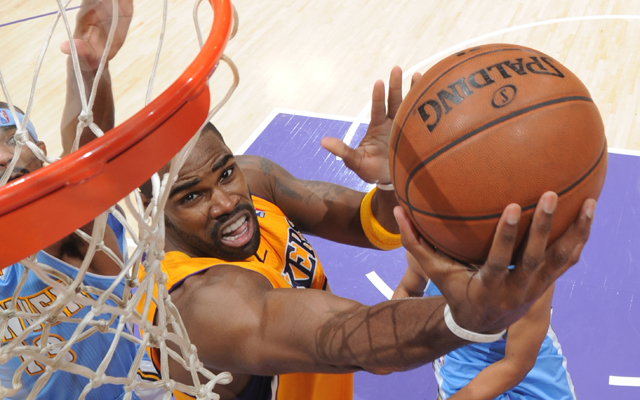 Would you recognize this man in a ski mask?
(Getty Images)
Antawn Jamison has had a long and lucrative career. The two-time All-Star is currently ninth amongst active players and 39th all-time in points scored with 19,724. Only 44 players in NBA history have played more than the 36,879 minutes he's logged in his 15-year career. And he's earned over an estimated $140 million in contracts.
Jamison has been the best scorer on a team, a supposed missing piece to help LeBron James' Cleveland Cavaliers get over the title hump, and he's also been a key reserve for plenty of teams with title aspirations. According to Jamison, he's also been a thief some years in the NBA, as he explained to Ramona Shelburne from ESPN LA:
Of the $140 million he's made in his career, Jamison joked: "I had a ski-mask on for a couple of years. I was robbing people."

— Ramona Shelburne (@ramonashelburne) March 1, 2013
There certainly were a couple seasons in which groups of fans would agree with Jamison's light-hearted assessment. 
Coming into this season, Jamison was on a two-year run with the Cleveland Cavaliers in which fans seemed to be furious at his production relative to his price tag. His defense was abysmal, his rebounding was subpar, and he needed a lot of shots in order to score his points. He did score points though. He averaged 17.5 points over the last 121 games with the Cavs while shooting just 41.4 percent from the field and 34.3 percent from 3-point range.
During those two years, Jamison was paid roughly $28 million by the Cavs. 
According to this article by Shelburne on Jamison, he turned down an offer of three years and $11 million from the Charlotte Bobcats this past offseason to take the veteran's minimum with the Lakers and chase a championship ring -- something he's never been able to obtain in his career. Things with the Lakers haven't exactly gone to plan this year with the coaching changes and the injuries and the horrific play. But Jamison has helped the Lakers turn things around over the last 17 games.
The Lakers have gone 12-5 during this stretch after falling eight games below .500 and are dangerously close to getting back into the top eight seeds in the Western Conference. During this 17-game span, Jamison has averaged 12.7 points and 4.8 rebounds in 23.1 minutes to go along with a 50.3 field goal percentage and a 42.6 3-point percentage.
It's good to know 'Tawn isn't robbing anybody this season.
T.J. Warren gets paid big money by the Suns in a four-year deal

Melo didn't hold back on his feelings about President Donald Trump and urges for help in Puerto...

The Wizards star says the NFL won't change until important players like Brady and Rodgers speak...
Popovich spoke at length about sports, race, culture, and politics during Spurs media day on...

Carmelo Anthony finds the idea of coming off the bench very funny

Several teams spoke about Trump's recent comments about protests and the Warriors' White House...