Lakers, George Karl respond to Magic Johnson's comments about Mike Brown
The Lakers released a statement in response to team VP Magic Johnson's comments while Mike Brown and George Karl addressed them prior to Game 7.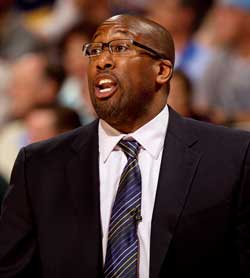 Mike Brown: Could he be gone?
(Getty Images)
Former Laker legend Magic Johnson wasn't shy about the stakes surrounding Saturday's Game 7 against the Nuggets for the
Lakers
.
He put it simply
: Mike Brown is gone if the Lakers lose.
Johnson was saying this as an analyst, not necessarily an insider, speaking merely out of opinion on how the Laker organization operates. He knows better than most.
The Lakers, however, saw fit to release a statement in response to Magic's comments on Saturday afternoon.
"The opinion expressed yesterday by Magic Johnson regarding Mike Brown was his personal opinion and was made in his role as a TV analyst.  His words were not made on behalf of the Los Angeles Lakers, and in no way do they reflect the feelings or position of team ownership or management.  We are fully committed to and supportive of Mike Brown as head coach of the Lakers."

Ken Berger of CBSSports.com reports that Brown also responded to Johnson's statements during his pre-game press availability on Saturday.

"Magic's a great guy and if that's how he feels about me, then great," Brown said. "If that's how he feels about my performance or as a coach, then great. I'm not going to sit here and try and fight him or anything else. He's entitled to an opinion, and if that's his opinion, I'm happy for him."

The Lakers coach said that Johnson's statements wouldn't influence his coaching of Lakers big men Andrew Bynum and Pau Gasol, who Johnson said could be traded if L.A. doesn't advance.

"Just because Magic Johnson says something, I'm not going to go run and talk to everybody that he talks about," he said. "He was a great player, from what I know -- and I don't know him very well -- he seems like a great guy. ESPN pays him a lot of money to give his opinion, and he gave his opinion and it's great. We're all big boys here, and we'll survive. I'll survive. Knock on wood, I'll still go home to my wife and my kids."
 
Berger also reported that Nuggets coach George Karl took issue with Johnson's statements during his pre-game press availability.

"I love Magic, I think he's been a tremendous ambassador to the game, but I think the statement is out of control," Karl said. "Totally out of control. Mike Brown is a good coach, they've had a solidly good year, and I think giving that statement I think is wrong and crazy. It's ESPN-ish. I think he got another year on his contract for that comment."
The conflict is that Johnson is a former minority owner of the team and current vice president. Obviously there's an interest issue there, which is why the team saw fit to release a statement addressing it.
Brown has three years left on a four-year deal he signed with the team and the front office has expressed only support for Brown throughout the season. He also responded to Johnson's comments at Lakers shootaround on Saturday morning, 
via ESPN LA
:
"Magic's a good guy and he's entitled to his opinion," Brown said. "My focus is on winning this game and that's it. All the other stuff, I don't have any control over the other stuff. I think I've told almost everybody here that's covered me, 'Hey, you guys got jobs to do.' Magic has a job to do. One of his jobs is to voice his opinion. He's a great guy. There's nothing for me to be concerned about there. I'm playing and coaching to win this game tonight and that's it."

[...]

"I think ESPN probably pays (Johnson) seven figures, so he's got to make comments whenever he feels its necessary to make comments and he's got to make the comments that he feels are the truth or he believes in or whatever," Brown said with a smile. "He's free to say what he wants. It doesn't bother me."
One way to make sure this thing isn't an issue though? Win Game 7.
A look at the context of the schedule and who plays who when, and how far they travel during...

Durant took on rapper Lil Dicky and actually might have lost

A report that James would once again be leaving Cleveland made the rounds on Wednesday
Known for his 'take that for data' rant, the Grizzlies coach touched on a number of important...

Wade's days with the Chicago Bulls appear to be numbered

Misty Suri will reportedly keep his job with the New Orleans Pelicans