Lakers GM Mitch Kupchak: Mike D'Antoni will be back next season
Los Angeles Lakers GM Mitch Kupchak said there haven't been any discussions about Mike D'Antoni not returning as coach next season.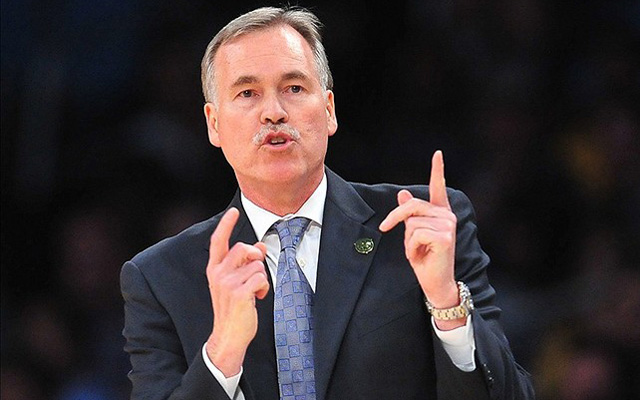 As soon as Mike D'Antoni was hired to replace interim coach Bernie Bickerstaff, who replaced Mike Brown after just five games, there were a lot of people waiting for the Los Angeles Lakers' new coach to be fired. Most Lakers fans wanted another go-round with Hall of Fame coach Phil Jackson, whom the fan base was comfortable entrusting with their favorite team.
D'Antoni's Lakers struggled at first, losing 20 of their first 32 games under their new coach. The organization was being pressured by fans and media all around to get rid of D'Antoni and find a better coach more worthy of rallying the personalities and talents on the roster. But the Lakers stuck with him and eventually rallied to not only make the playoffs but win 28 of their final 40 games and earn the seventh seed in the Western Conference playoffs.
The success of the Lakers under D'Antoni is good enough for the coach to keep his job, according to Lakers GM Mitch Kupchak. From the Los Angeles Times: 
"Yeah, he's back. I think he's done a great job," Kupchak told The Times. "There's been no discussions otherwise.

"He's made adjustments. He's been flexible. He's evaluated how he coaches as the season's progressed. He's listened to the players. He's very easy to work with and we think in particular since the meeting the day of the Memphis game, yeah."
Context of the Lakers' season is huge, and Kupchak seems to understand that. Without a training camp to implement your system, it's nearly impossible for a coach to get everybody doing exactly what he wants them to do. There isn't enough repitition throughout the season to really make it a robotic response when they're tired and need to run what has been designed for the team to run.
Teams rarely get to practice all that often in the regular season because of how many games there are and the necessary training, treatment and rest players that need to recover and keep their bodies fine-tuned. It's not like D'Antoni can just throw in a couple of extra practices to get everybody on the same page. Factor in the broken leg that Steve Nash suffered before D'Antoni took over, Dwight Howard's back and shoulder problems, Pau Gasol's foot problems and then Kobe Bryant being banged up throughout the season before finally suffering a devastating injury. It's easy to see why the Lakers were so inconsistent.
"Much has been made of the injuries, and the coaching change [in November] and no training camp, which is certainly a part of it," Kupchak said of their up-and-down season.

"It takes a while. You're in New York coaching and you see the Lakers once or twice a year, you don't know the personnel. And the injury situation when he got here, Steve Nash had the broken leg. There's just too much going on to really look at it any other way."
Now, that doesn't exactly mean D'Antoni is safe for the long haul. Mike Brown's job was safe heading into this season, and he lasted five games. And there's a debate to be had about whether D'Antoni's system is actually fit for a team with two big men like Howard and Gasol, a point guard pushing 40 and a ball-dominant shooting guard who will be recovering from a torn Achilles tendon. 
There was also concern from fans and pundits that D'Antoni's inability to control the team and limit Bryant's minutes might have led to all of the turmoil and eventually the injury that will knock Kobe out for at least six-to-nine months. However, as of now, D'Antoni can be assured the Lakers have no plan to kick him to the curb and find a replacement. That's what the first two weeks of the regular season are for.
(H/T - Pro Basketball Talk)
Arizona's DeAndre Ayton goes No. 1 over Duke's Marvin Bagley in Reid Forgrave's latest mock...

The order of the NBA Draft is pretty much set, with only the lottery left to decide how it...

Here's how to watch every NBA postseason game online or on TV
Budenholzer is suddenly on the market. We examine possible destinations for the free-agent...

The Warriors will take on the Pelicans in the second round of the playoffs

Watch the top-seeded Raptors square up against the No. 8 Wizards in the Eastern Conference