Lakers GM says Dwight Howard is the 'future' of the franchise
Lakers general manager Mitch Kupchak reiterated that the team not only won't be dealing Howard, but that the organization sees him as its future.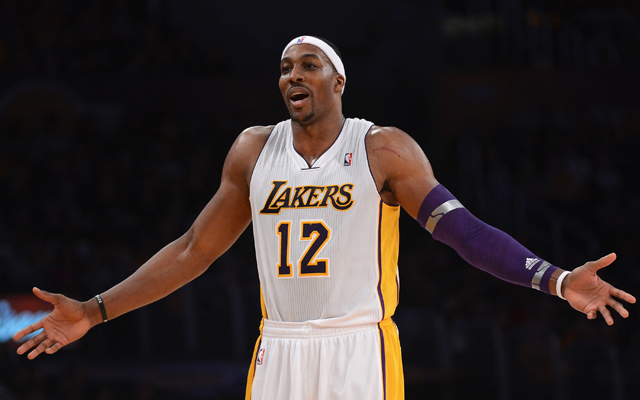 Mitch Kupchak wants Howard to go down as a Laker great.
(Getty Images)
When the Lakers acquired Dwight Howard last summer, it wasn't just seen as a massive shift of power to Los Angeles for the present but also for the future. Howard, a dominant 27-year-old center, was set to inherit the team when Kobe Bryant finally felt like taking his death grip off the torch.
But with his health, the behind-the-scenes stuff that has gone on with his ever-changing happiness, the team's lackluster performances and the fact he's still set to be an unrestricted free agent this summer, there has been a growing feeling the Lakers might cut ties with him. For maybe the proudest franchise in professional sports, the distractions and issues caused by Howard's immaturity have surely been grating.
Except, on ESPN Radio on Wednesday, general manager Mitch Kupchak reiterated the team not only won't be dealing Howard, but that the organization sees him as its future. Via ESPN LA:
"Dwight is our future," Kupchak said Wednesday. "Kobe [Bryant] has one more year on his deal [this year, plus one]. That's all I can bank on or this organization can bank on. I have no idea if he wants to continue to play beyond next year. As of now, we're looking at a two-year window, [and that] plays to the urgency of the situation and how we build the team. ... This team's window to win is this year and next year."
Per CBSSports.com's Ken Berger, Kupchak has told Howard on multiple occasions that he would not be traded.
"We've been very consistent," Kupchak said on the radio Wednesday. "We're not trading Dwight Howard. ... He will not be traded and there's nothing that anybody can do today to call me today and ask me, 'Would you do this?' and get a positive result."
Kupchak even doubled down on the whole "Howard is the future" talk by saying he will eventually be in bronze next to Magic Johnson, Kareem Abdul-Jabbar and Jerry West.
"It's hard to get talent in this league and to have a talent like Dwight Howard, we have no intention of trading Dwight Howard," Kupchak said. "He belongs to have his name on the wall [as a retired uniform] and a statue in front of Staples [Center] at some point and time."
Howard's performance this season hasn't been up to expectation, but he is recovering from a major back surgery that Kupchak said typically takes a year to recover from.
But the Lakers have been filled with drama this season because of the team's performance as well as the evident locker room issues, most involving Howard. Kupchak called Howard's relationship with Kobe something that's evolving but played it off by saying the same about Steve Nash as well.
Howard's not going anywhere by Thursday. That is, if you're to believe the man who has the power to send him somewhere. The only place that Kupchak plans on sending Howard is to the rafters of Staples. But, like the Thursday deadline, we'll just have to wait and see about that.
The restricted free agent has a deal in place that will keep him with the Bulls after a st...

James' support continues his trend of social activism on social media

The newly-acquired All-Star thinks the addition of Anthony boosts the Thunder in the NBA's...
The Knicks were asking for the house in discussions for Carmelo Anthony

Steve Kerr has given his response to Donald Trump in writing

Trump rescinded Curry's invitation to the White House after Curry said he wasn't interested...