Lakers GM says Jerry Buss' poor health made the team impatient
Lakers general manager Mitch Kupchak joined John Feinstein on CBS Radio today and spoke at length about the legacy of Dr. Jerry Buss, as well as the direction of his team.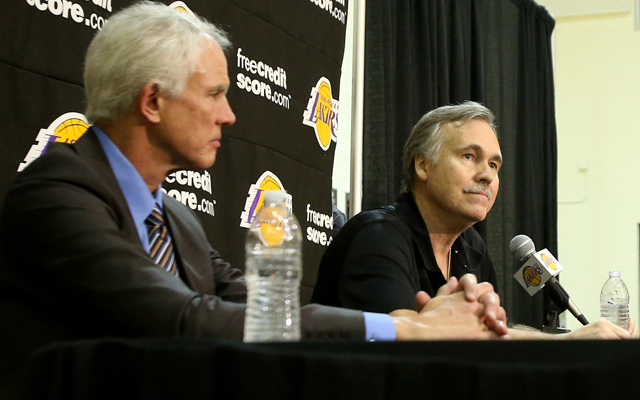 Lakers general manager Mitch Kupchak joined John Feinstein on CBS Radio on Tuesday and spoke at length about the legacy of Dr. Jerry Buss, as well as the direction of his team.
One interesting topic: the move to fire Mike Brown five games into the season, a decision that seemed very knee-jerk and impatient. Kupchak actually agrees with that perception.
"The one thing that was a big factor is our lack of patience," Kupchak said. "When we made the changes we made in the offseason, we really did it with a two- or maybe even a three-year window, probably a two-year window to do our best and win a championship. And clearly we knew Dr. Buss was not in great health, and we were hoping for the next year or two we could put something on the court that would result in being in the hunt at the end of the year for a championship.
"And when we didn't feel we could get there after a preseason and a small number of games, we didn't feel we had the patience to wait and see if it was going to work out," he continued. "And that's really why we made the change we made so early."
So that's Kupchak saying essentially, the team became far more impatient because of the failing health of Buss, which contributed to Brown's firing. Pretty interesting.
"We could've waited another month or two, but at the time I believe we were 1-4," Kupchak said. "And if we would've waited another month we could've turned it around, or we could've been 2-12. We just didn't want to wait. And that's because we feel our best chance to win is this year and next year."
Buss died last week, which obviously was devastating news for the organization. Buss was one of the greatest owners in professional sports history and a true gem to have in the league. And while his team hasn't performed up to expectations this season, it at least had been in the process of playing better when Buss passed.
The Lakers are three games behind the Rockets for eighth with 24 games to go -- not insurmountable, but definitely a steep hill to climb. Kobe Bryant has guaranteed the Lakers will be in the playoffs. Kupchak acknowledged that it might be out of their hands.
"We need help from the teams above us," Kupchak said. "We need them to cooperate and put together two or three game losing streaks and we have to continue to play well."
Kupchak was also asked about the team's chemistry and the reports of tension between players. Something he definitely didn't deny.
"Up until lately, I don't think anybody in our locker room was getting along. If you went down there, you'd see a bunch of grumpy, upset players, and that's because we were losing. Losing brings out the worst in everybody, and nobody is happy."
Kupchak recently said that he viewed Dwight Howard as the future of the franchise, a player to build around once Kobe Bryant decides he's played enough. And he reiterated that point.
"The good thing is with Dwight on board, at some point we have him as our young player going forward," Kupchak said.
Obviously for that to happen, Howard has to re-sign this summer. He's an unrestricted free agent and could easily walk to another team. But the way Kupchak spoke, he seems to be extremely confident the Lakers will keep him long-term.
Although as he admitted, the Lakers don't exactly have much patience. They're in win-now mode, and that's the only focus. It's dictating every decision they're making, every move they're considering. Kupchak says the window is another year, maybe two. But if the Lakers don't start winning and don't get help these last 24 games, the window on this season is about to slam shut.
Is this rock bottom for the Cavaliers because it sure feels like it is

Wade, as he's done so many times in his career, threw it up to LeBron for the thunderous f...

The Warriors coach added there should be no shame in being picked last since everyone's an...
We've got all the scores, highlights and news from all of Saturday's games

The two teams have reportedly not had any substantial discussions to this point

Oladipo may be getting most of the shine, but this second-year big man has been phenomenal...