Lakers have the chance to unleash Nick Young, the ultimate gunner
Nick Young doesn't pass and he doesn't turn the ball over. He puts up a lot of shots and gives the Los Angeles Lakers an incredible weapon.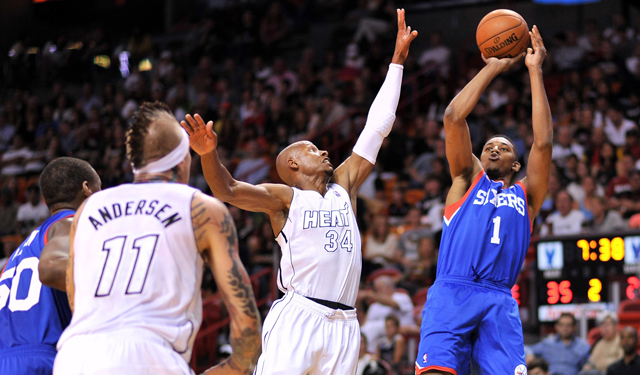 The Los Angeles Lakers have a bit of a predicament on their hands.
They're gunning for a playoff spot in the West one year after they barely got in with the 7-seed and have their star Kobe Bryant returning from an Achilles' tendon tear. Their championship aspirations from one year ago left for Houston. Mike D'Antoni's team has to recalibrate what they can realistically expect to do, and while competing for a playoff spot when some are already writing them off is realistic, it requires Bryant returning close to form and doing so in a timely manner.
To figure out how to make the playoffs, the Lakers may have to figure out exactly what it is they do well. Last season, they struggled to keep their aging but effective point guard on the court and healthy enough to operate the famous Seven Seconds Or Less system. They had Dwight Howard struggling to stay healthy, even though he did play. Pau Gasol seemed to be a mess both psychologically (D'Antoni has admitted he messed with Pau's role in the offense to try to placate Dwight) and physically. Even with all of that, Bryant helped carry them to the eighth best offense in the league, scoring 105.6 points per 100 possessions.
The Lakers may not have the luxury of having Kobe Bryant back, and will rely heavily on Steve Nash and Gasol to be healthy and be weapons on offense until their star shooting guard is back and ready to carry the scoring load. Until then, they have a bit of a secret weapon who gets overlooked in just how important his role can be.
They have Nick Young, the ultimate gunner in the NBA.
The role of the gunner in the NBA has always been a bit of a contentious topic for basketball purists and the advanced stats community. Guys like J.R. Smith, Jamal Crawford, and Monta Ellis are tough to judge because they do the thing we like (scoring) but they don't necessarily do it the way we like it (efficiently). Not only do these guys put up a ton of shots many of us find questionable, but they rarely make the extra pass and force the action.
However, that's where I think Young sets himself apart from more-celebrated members of his gunner fraternity. When Young has the ball, you know a shot is going to be created by him and you'll always have a chance to score. The impact that can have on your offense can be incredible because you're not often wasting possessions.
Young doesn't pass much, but he also doesn't turn the ball over. For a guy with such a high career usage rate (23.3 percent), it's impressive that he's never had a season in which he broke 100 assists or 100 turnovers in any given season. In the history of the NBA, there are four players who have been so shot-happy while not giving the ball away. Setting the criteria for a 21.0 percent usage rate, scoring at least 800 points, and not amassing 100 turnovers or 100 assists, only Nick Young (three times), J.R. Smith (once), Marcus Thornton (twice), and Dale Ellis (once) have pulled this off.
It's easy to dismiss this theory for one reason: When has Young ever been a successful player in the NBA? He really hasn't. Other than a brief playoff run into the second round with the Los Angeles Clippers in 2011-12, Young has only played in four other playoff games in his six-year career. But that's where D'Antoni and the Lakers get to finally harness the power of Young.
Over the years, D'Antoni has put guys into the gunner role and had them flourish. Eddie House, Quentin Richardson, Raja Bell, James Jones and even Leandro Barbosa to some extent filled that role for D'Antoni's Suns in the past and seen a boost in their scoring numbers. D'Antoni desperately tried to make Jodie Meeks be that guy for the Lakers last year and just couldn't make it consistently work.
With Young ensuring that shots go up in D'Antoni's system this coming season (assuming the Lakers don't decide to replace the coach five games in), we could see a resurgence in Young's scoring and the effectiveness in that role utilized by D'Antoni. Even though he had a bad year from downtown at only 35.7 percent 3-point shooting last season, Young is actually a good 3-point shooter. His career percentage of 37.4 is well above league average. If the offense is able to run freely and have a healthy Nash shepherding the herd, we could see Nick Young crack the 40 percent mark from downtown for the third time in his career.
That's surprisingly the comforting thing with Young. You know the shot will go up and you know he actually has a solid chance of knocking it down even though his 42.7 percent field goal percentage doesn't knock you off your chair. He doesn't force things into the defense and give the ball up leading to an opponent's transition opportunity. He catches the ball and he shoots. D'Antoni and Nash have benefitted in the past from those players who aren't shy.
We've seen Smith and Crawford flourish in that role, but Young should be able to finally jump into the Sixth Man conversation this season because it's one of the rare times he'll be on a pretty good team (assuming Kobe comes back in a timely manner). While the Lakers will undoubtedly struggle to defend their opposition, scoring won't be a problem and all of those safety valve shots from Metta World Peace last season will now go to Nick Young, who is a much better shooter and shot creator.
Health will ultimately be the undoing of the Lakers this season if they struggle to stay out of the trainer's room. But if they're healthy, they'll still find a way to put up points on the board and do so efficiently like they did last season. They can trust Young to put up a lot of those shots and points as well because when he gets the ball, you know it's going up.
That's what gunners do.
A look at the context of the schedule and who plays who when, and how far they travel during...

Durant took on rapper Lil Dicky and actually might have lost

A report that James would once again be leaving Cleveland made the rounds on Wednesday
Known for his 'take that for data' rant, the Grizzlies coach touched on a number of important...

Wade's days with the Chicago Bulls appear to be numbered

Misty Suri will reportedly keep his job with the New Orleans Pelicans