Lakers: Kobe Bryant could return Friday vs. Kings
Kobe Bryant could make his season debut vs. Sacramento on Friday in his first game back from his Achilles injury.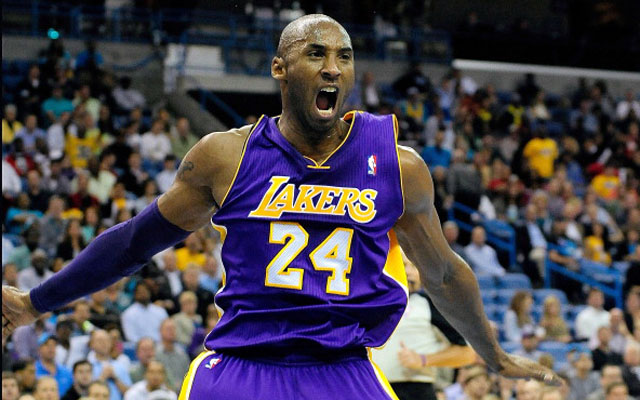 The Lakers, their fans, the world has been waiting. And for the first time since Kobe Bryant hobbled off the floor last April, we may have a Black Mamba at the end of the tunnel. Or something. From ESPN LA: 
Kobe Bryant has been ruled out of Sunday's game against the Portland Trail Blazers, but the Los Angeles Lakers acknowledged he could return Friday in Sacramento if he feels ready after a week of practices.

Los Angeles has no games between Sunday and Friday. Lakers coach Mike D'Antoni said Bryant will use the three practice days to evaluate how he feels before determining whether he's ready to return from a ruptured Achilles tendon that's kept him out since April 12.

"I don't want to anticipate anything," D'Antoni said after practice Saturday. "Those are days that he can work and see, re-evaluate how he feels after the three days and then make a decision going forward.

"That doesn't mean he will play Friday, doesn't mean he won't. But that's the time you just evaluate, and I can't tell you what type of evaluation that will be."
via Kobe Bryant of Los Angeles Lakers could return to play Friday against Sacramento Kings, coach Mike D'Antoni says - ESPN Los Angeles.
Bryant has been slowly recovering from Achilles tendon surgery last April. He was cleared for practice earlier this month, but had said it might be weeks not days before he returns. He signed a two-year extension worth $48.5 million last week and took to Twitter and the media to defend it. 
If Bryant does return Friday against Sacramento, it provides him with an easier opponent to face. The question will be whether he returns to full play with no minutes restriction or if the Lakers bring him along slowly. The risk of injury is just as great to other parts of his body trying to compensate for the injury as it is for a recurrence of problems in the ankle. 
But all that can be figured out in time. For now, start the clock towards Friday, December 6th, and what could be the return of Kobe Bryant. 
Victor Oladipo just wants to live his life and enjoy his breakout season with his new team

Keep it right here for all of the news, notes, scores, and highlights from around the Asso...

LeBron has a player option for next season, and is expected to opt out and become a free a...
The Pistons will be looking to snap a five-game losing streak when they host the Celtics on...

Bryant offers some advice for Ball and other rookies about having a sense of urgency in the...

Burks has stepped up in a big way for the Jazz, averaging over 20 points per game since Rodney...