Lakers' Kobe Bryant is a game-time decision Friday with ankle injury
Los Angeles Lakers' guard Kobe Bryant will be a game-time decision with his ankle injury for Friday's game against the Pacers.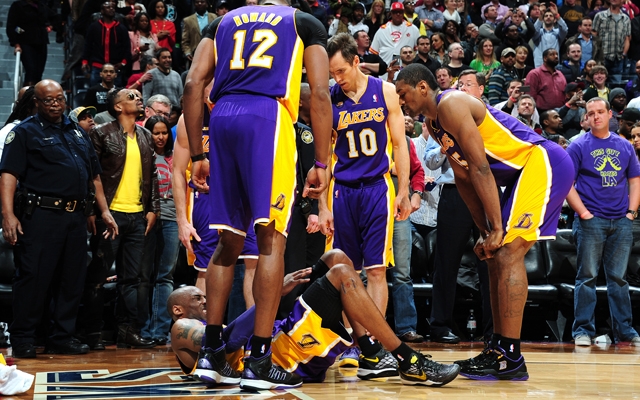 Los Angeles Lakers' shooting guard Kobe Bryant looks like he has one of Metta World Peace's biceps stuffed into his ankle right now. After coming down on Dahntay Jones' foot at the end of the loss to the Atlanta Hawks on Wednesday, Bryant's ankle has a severe sprain, and he's been undergoing treatment.
Is it going to be good enough to play Friday night against the Indiana Pacers? We won't know until game time, according to Mike Trudell of Lakers.com.
Bryant is being called a game-time decision, holding out for the very slim chance he'll play, but it's doubtful.

— Mike Trudell (@LakersReporter) March 15, 2013
This is pretty much par for the course with Bryant. Two years ago, Kobe had a bad ankle sprain against the Dallas Mavericks in a March game. It was assumed he'd miss time because of that injury, but he played the next game, which was two days later. He struggled in his next three games averaging 18.6 points on 18.6 shot attempts (39.2 percent), but he managed to drop 42 points on 48.4 percent from the field with 12 rebounds and nine assists in the fourth game after the injury.
Most people seem to believe he will miss Friday's game against the Pacers, but the fact that they're flirting with a game-time decision right now just shows you how little Kobe seems to care about his own body when it comes to playing through injuries. 
(H/T to @forumbluegold for the memory lane with Kobe's ankle)
Warriors' forward doesn't understand the reasoning behind the all-too-common double technical...

Hardaway Jr. gave a 'safe' call like he was an umpire in baseball

Barnes hits the trey with less than a second left to lift Mavericks to dramatic 95-94 vict...
Kevin Durant was once again back in Oklahoma City

Gregg Popovich has never seen an injury lead to the issues that Kawhi Leonard has been fac...

Kobe Bryant, of course, had his 81-point game against Rose and the Raptors back in 2006