Lakers' Kobe Bryant says he won't play in 2016 Olympic Games in Rio
Lakers star Kobe Bryant said his final game will be in a Lakers uniform.
• 1 min read
Los Angeles Lakers star Kobe Bryant said Saturday that he will not play at the 2016 Olympic Games in Rio de Janeiro. This is a change of tune; in November, Bryant said that it would "mean the world to me" to represent America one last time. When he retires from the NBA at the end of the season, he will be retiring from basketball.
"I think it's pretty sweet to have the final game in a Laker uniform," Bryant said. 
When Bryant and the Lakers played the Golden State Warriors, Brazilian guard Leandro Barbosa told him he'd see him in Rio. "Nah," Bryant said he told Barbosa. "I think it's the young guys' turn to play and perform."
For Bryant, two Olympic gold medals is enough.
"I've had my moment," he said. "I think it's important for them to go ahead and play. I'll watch from afar, support from afar. If they want me to come down and speak to the guys, I will. That's about it. I think as beautiful as it would be to play for our country, when I say my last game is going to be my last game, I'm going to retire, then that's it."
It's interesting that Bryant has shut the door on this. If he hadn't, as the Olympics neared, it was going to become the subject of more and more speculation. Some would have seen it as a perfect end to a Hall of Fame career, while others would have seen it as taking an opportunity away from a younger, arguably more deserving player. This ends that conversation.
Bryant's farewell tour continues Saturday against the Utah Jazz at 9 p.m. ET.
CBS Sports' Zach Harper contributed to this story.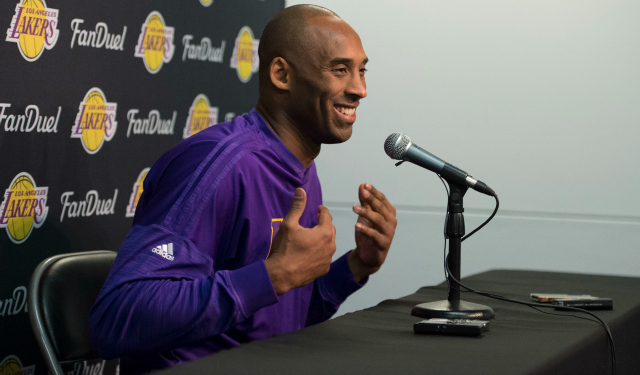 If there's any justice, the basketball gods will give us the Golden State-OKC playoff series...

Pachulia fell onto Westbrook in a questionable manner during Saturday night's game

Pachulia fell onto Westbrook after they both got tangled up with Nick Young
Butler suffered the injury on Friday night against the Rockets

The extent of Butler's meniscal injury isn't yet known, but there's reason for Wolves fans...

No timetable was provided for Butler's recovery