Lakers' Kobe Bryant: 'Who the hell said I'm retiring?'
Kobe Bryant told reporters he will play next season and won't close the door on keeping going after that.
• 1 min read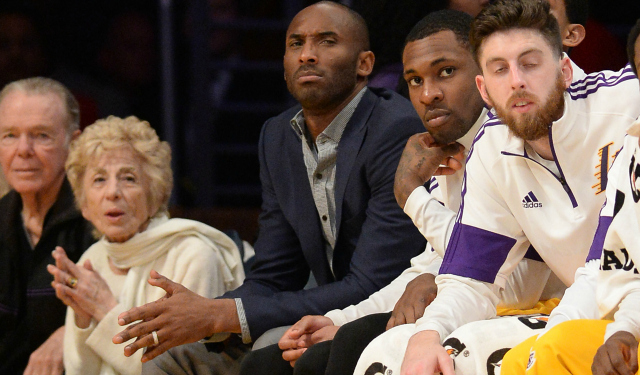 Kobe Bryant has a year and $25 million left on his contract, but some people wondered if he'd walk away from it. He had season-ending surgery in January because of a torn rotator cuff, and his body has been through a heck of a lot. The Los Angeles Lakers guard told reporters on Tuesday that he will be back for one more year but thinks that'll be it, via the Los Angeles Times' Eric Pincus:
"As I sit here right now, do I want to play after next year? No.  That could change,"  Bryant said.

…

"After three years of dealing with this crap, you kind of understand why I don't want to deal with it anymore," he said.

"This is much more encouraging [than the Achilles' tear]," said Bryant, who said he expects to start running over the next two weeks.  "I can move around . . . my spirits are much higher."

…

"Who the hell said I'm retiring?" he asked.  "It was never a question of if I was going to play next year."
Bryant has done a bunch of interviews lately because of his Showtime documentary, and he continues to sound fairly Zen about his situation. That includes the prospect of another injury ending his career.
"If something is going to go, it goes," he told reporters on Tuesday. "Father time got me, there's nothing else I can do about it."
The superstar is in an interesting place: he's absolutely determined to get back on the court, and he wants the Lakers to improve dramatically, but he is aware that his body could betray him again. Next season will be Bryant's 20th, and the Lakers plan to honor him at home games. It's not technically a farewell tour, but if you want to see him play in person again, you should probably remember to get those tickets early. 
It's rare to see a legit punch in an NBA fight, but this was definitely one of them

We've got all the scores, highlights and news from an NBA Tuesday

The former Slam Dunk Contest champion will take his talents to Tri-State
Do NBA players have look-a-likes from famous paintings? We found out on the new Arts & Culture...

Larry Hartstein is on quite a run in picks involving the Suns and the Trail Blazers

Rodman's agent says he is urging the ex-NBA star to check into rehab