Lakers' Kobe Bryant will get knee reevaluated, won't sit out season
Los Angeles Lakers' star Kobe Bryant says he will have his knee reevaluated in February but has zero intentions of sitting out the rest of the season.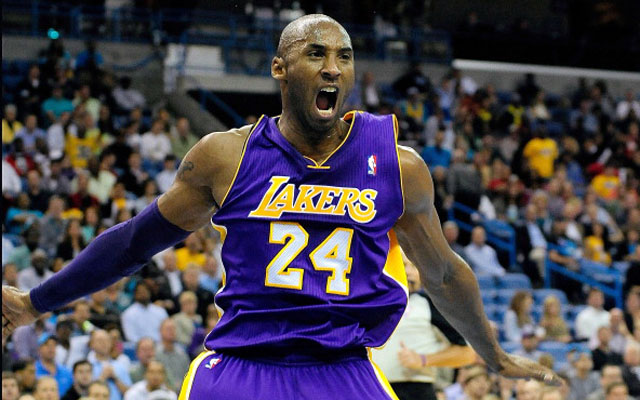 As the Los Angeles Lakers spiral deeper down the standings and look more at lottery odds than the playoff picture, the idea of Kobe Bryant sitting out the entire season to make sure he's healthy for the next two years of his contract is starting to come up. People are wondering why Bryant would return to such a bad playing situation instead of being healthy and making sure his body is intact. That's not something Bryant is concerned with and doesn't have any intention of doing.
Bryant spoke to reporters in Boston before the Lakers' win over the Boston Celtics on Friday and said his knee will be reevaluted in early February. He also told reporters he doesn't plan on sitting out the rest of the season just because the team might be a lost cause for this season. From ESPN Los Angeles:
Kobe Bryant plans to have his injured left knee re-evaluated sometime in early February and has no intention of sitting out the rest of the season, no matter how bad things get for the Los Angeles Lakers in the standings.

"The only thing I can afford to consider is getting better, getting stronger," Bryant said before the Lakers' 107-104 win over the Boston Celtics on Friday. "I can't allow myself to think any other way. I can only think about the next step. To do anything else becomes distracting if you allow yourself, if you give yourself wiggle room to not push yourself as hard as you possibly can. To think about sitting out and this, that and the other, your motivation is all wrong. I refuse to think that way."

"We'll see where it's at in February and see if it's good to go," Bryant said, pushing back his return timeline ever so slightly, with D'Antoni having recently said Bryant would be re-evaluated Jan. 27, at the conclusion of the team's current seven-game trip while the Grammy Awards take over Staples Center.
Anybody who has followed even a small portion of Bryant's career can't possibly be surprised by this thought process for him. He's been known as the ultimate competitor during his 18 seasons in the NBA and certainly wouldn't let a terrible record stop him from satiating that competitive nature.
At this point in the Lakers' season, the best thing for the franchise would be Bryant returning to keep creeping toward the all-time scoring total and the team to keep losing to give them a great chance at drafting a franchise-caliber player in the 2014 draft. The Lakers were just 2-4 with Bryant in his brief return from a torn Achilles' tendon back in April. Bryant is currently 6,688 points from becoming the all-time leading scorer in NBA history.
The No. 1 overall pick has been tinkering with his form

George suffered a similar injury in 2014, and immediately offered Hayward encouragement

A certified athletic trainer says Hayward is 'hard-pressed to get back this season'
Mike McClure, a DFS pro with more than $1M in winnings, gives optimal DraftKings and FanDuel...

The two have been trained together in the past and still keep in regular contact

Anthony opened up about finally leaving New York after years of rumors