Lakers must have more of this assertive, dominant Dwight Howard
On Sunday night, we saw the Dwight Howard that the Lakers need to get into the playoffs and do something once they're there. He was an assertive, willing leader not shying away from a challenge.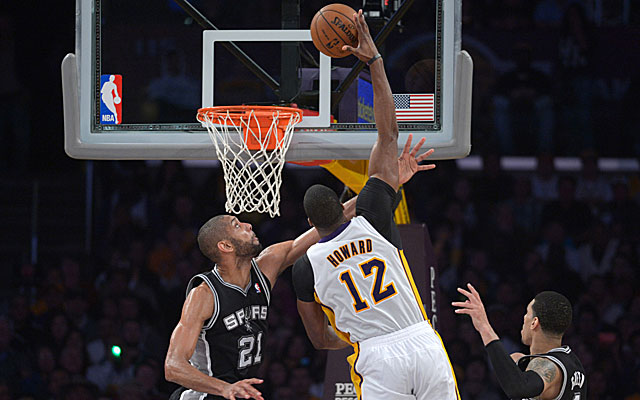 LOS ANGELES -- This was the Dwight Howard that the Lakers need to get into the playoffs and do something once they're there. This is an assertive, willing leader who is not shying away from a challenge.
Far from it. Howard has embraced the absence of Kobe Bryant as an opportunity, not a burden. On Sunday night, he attacked this important moment in his life as a Laker with the same aggression that he used to combat the great Tim Duncan in a ferocious struggle in the paint between old and new.
It was the challenge of Duncan, the desperation of the Lakers' playoff pursuit, the absence of Bryant and the doubts about where this Lakers team is going without him -- all of it swirled inside Howard and fueled him in a 26-point, 17-rebound performance when the Lakers needed him most.
"I have to step up and be more for this team now, and I'm comfortable with doing that," Howard said after the Lakers beat the Spurs 91-86 to move within one victory or a Utah loss of a playoff berth. "Despite what anybody's saying, I feel like the Lakers brought me here for a reason and I just have to go out there and do what I have to do for this team."
The dominance the Lakers got from Howard on Sunday night, however, is only part of what they need. They also need his presence, his leadership, his well-chosen words -- all aspects of his personality that have been curiously lacking for most of this season and, frankly, haven't always been there before.
From his post-practice pep talk on Saturday, to his two visits to the hospital to check on Bryant, to his empowered performance on the floor and, finally, to his mostly serious, thoughtful analysis of the state of his team -- all of it struck the right notes in these first steps for Howard in a new role that he is embracing.
"We know how to play basketball," Howard said. "We understand that Kobe's out, but we've all done some special things in our career. So we can't hang our heads. We believe in each other, and we have to go out there and play hard. And I believe that we can still win. There's no doubt in my mind.
"I think this is a great opportunity for myself and for this team to show who we are," he said. "And we're going to give it everything we've got. We're going to fight until the end. ... We believe that we can beat every team."
If the Jazz lose at Minnesota on Monday or at Memphis on Tuesday, or if the Lakers beat the Rockets on Wednesday, then the Lakers are in the playoffs. Clinching playoff berths is not something that's normally celebrated or recognized in Staples Center, where 16 championship banners hang.
Given the turmoil, the coaching change five games into the season and all the injuries -- Steve Nash at the beginning and again at the end of the season, not to mention Howard, Pau Gasol, Metta World Peace and, of course, Bryant -- this one would qualify as an accomplishment. Bryant pushed the Lakers within striking distance of the playoffs, and Howard now must finish the job without him.
"We know everybody's doubting us, and that's fine," Howard said. "That's going to make us push even harder. Nobody believes we can win. We're all professional athletes; we've all done some great things in our careers. So why not go out there and play hard?
"Besides our fans, everybody feels as though we can't win," he said. "We're going to show people who we are."
The cynics will say the Lakers are a sure out in the first round, assuming they get there. And that might be true. By beating the Spurs, the Lakers pushed themselves one step closer to the playoffs but also one step closer to a first-round date with the defending Western Conference champion Thunder. Oklahoma City's magic number for clinching the No. 1 seed is one.
Can the Lakers really reinvent themselves one more time? Can they overcome the loss of Bryant and serve as anything other than a tuneup for their first-round opponent?
Chances are the answers are no and no. Even with a hellacious front line of Howard and Gasol -- both of whom they're actually using now that Bryant is done for the season with his torn left Achilles tendon -- the Lakers simply aren't deep enough and haven't displayed the ability to defend consistently enough to contend with the more complete, polished teams waiting for them in the playoffs.
But two cautionary points: In theory, any team with Howard should have the most dominant player on the floor -- unless the opponent is Miami. When healthy, engaged and determined, Howard is a problem for any team. As for the rest of the Lakers' rag-tag bunch -- the likes of Jodie Meeks, Darius Morris and soon, newly signed Andrew Goudelock -- they're right in coach Mike D'Antoni's wheelhouse. He has made a career out of making careers out of players like that.
D'Antoni has his flaws. But if any coach can trick up a game and a playoff series and do more with less, he's the guy. Even with the subtraction of Bryant, D'Antoni can see the bright side -- the ball moving, finding the open man and taking advantage of simplicity.
"One of our bigger problems earlier was that everyone wanted to lead and everyone wanted to be an alpha dog and everyone wanted the ball," D'Antoni said. "So we had to get through that, and we got through it pretty good; it took a while, obviously. But they're ready to go. They're like, 'OK, I'm back in the driver's seat.' … These guys are more than capable and they're ready to step up to the challenge."
The guy who clearly is ready is the one the Lakers need the most -- despite all the baggage that he lugged to L.A. with him. Howard has spent most of the past 18 months plotting his exit from Orlando, recovering from back surgery and trying to fit in with the Lakers under the massive weight of Bryant's presence. Now, starting with Game 81 of an 82-game season, Howard must go back to leading and dominating again.
This wasn't a bad way to start.
"I've watched Kobe all year," Howard said. "I've watched a lot of the things he's done with this team. He's not one of those guys who's going to get in the locker room and be vocal. He's going to do everything on the court. That's how he shows his leadership, just by how hard he plays, how hard he trains. Other guys are vocal guys.
"I believe that I can do both," he said. "I've been trying to do that for the whole year. And now with Kobe out, I understand I have to do more and be more for this team. It's a great opportunity for me, and I believe I can do it."
A dominant performance, a lead-by-example demeanor and a well-articulated summation of events. If this is the new Dwight Howard, what's not to like?
Wade opted in to his $24 million player option earlier this summer

Barkley spoke to the NFL Today crew about the response the president received in his home...

The restricted free agent has a deal in place that will keep him with the Bulls after a st...
James' support continues his trend of social activism on social media

The newly-acquired All-Star thinks the addition of Anthony boosts the Thunder in the NBA's...

The Knicks were asking for the house in discussions for Carmelo Anthony