Lakers' Nash says he's not himself physically
The Lakers' Steve Nash says he's not himself physically after he struggled in Game 1.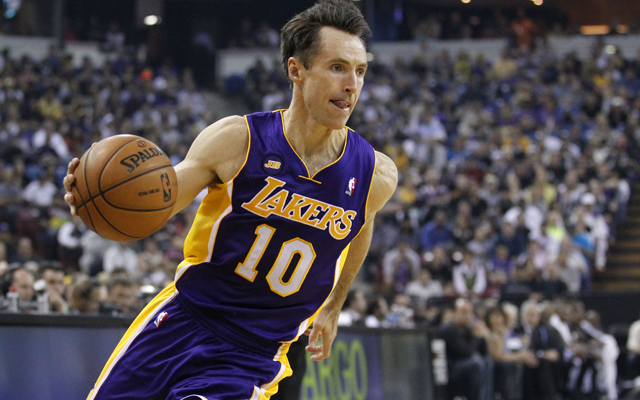 Steve Nash had to play. There wasn't another option. With Kobe Bryant done for the season, the Lakers have to have another guard who can create his own shot. Nash has been dealing with hip and leg issues related to this degenerative back condition. He missed the final eight games of the Lakers' season. But he had to come back for Game 1 on Sunday against San Antonio. 
And he just wasn't able to move. Nash told reporters after the game that he's frustrated and struggling with his body.
From the LA Times: 
"I'm not myself," Nash said. "I'm not moving that well. I'm struggling a little bit. I probably had a few shots in there that I probably normally make, but I still think it's important to try and contribute. We don't have enough points in our lineup every night."

"There's no miracle pill at this point. I can't go home and say I'm not 75-80 percent so I'm not going to play," said Nash, who had three assists in 29 minutes. "I've got to try to fight and figure out a way to just help."
via Lakers' Steve Nash isn't himself against Spurs -- latimes.com.
Nash was 6 for 15 for 16 points Sunday, an abysmal performance based on Nash's usual efficiency (but pretty good numbers for the Sixth Man of the Year), and he had just the three assists. 
The Lakers needed more, and they lost Game 1. Nash is trying to get healthy, but there's just no time. You have to wonder if the Lakers had the Suns' training staff, which kept Nash's back from falling apart for eight seasons, if this situation would be better. 
As it is, the Lakers can only hope Nash can heal quickly, because they're going to need a lot more from him if they are going to win this series. The Spurs' ability to dig down from the perimeter to double the post on Dwight Howard and Pau Gasol because they don't fear the Lakers' 3-point shooting is giving the Lakers' offense fits. 
With 2K18 out everybody wants to know who has the 10 highest ratings in the game. Here's the...

Durant noted in an interview that all of the criticism in the immediate aftermath hit him...

Want the swagger of LaVar Ball? "NBA 2K18" lets you copy his absurd run from his WWE appea...
Durant apologized for a few tweets in which he criticized OKC and his former coach Billy D...

Lue does not expect the Cavs' big trade to affect the team's starting frontcourt ... at least...

Dwight Howard wants to be a farmer in his future and retire with his donkeys