Lakers' Nick Young thinks he's the top shooting guard in the NBA
Los Angeles Lakers' gunner Nick Young thinks he's the top shooting guard in the NBA. Seriously.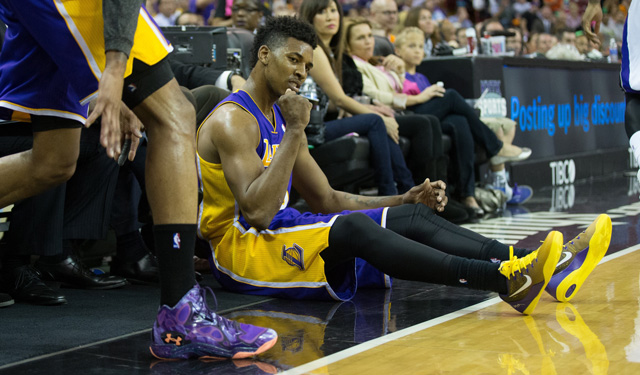 More NBA: Power Rankings | Expert Picks | Latest news & notes
Having supreme confidence in your abilities has to be a prerequisite to becoming a professional athlete. You can't believe you're not one of the best players in the world if you're going to become the elite of the elite. It's a big reason why Mario Chalmers believes he's a top point guard because he has to have that mentality all the time in order to knock down big shots consistently. Sometimes the confidence can go a bit too far though.
When prompted on Twitter when he was going to become a top-5 player in the NBA, Los Angeles Lakers' shooting guard Nick Young had an interesting assessment of his own abilities and placement in the NBA. He didn't say whether or not he's a top 5 player in the league but he did say he thinks he's the top shooting guard.
"@ConnorAndrews: @NickSwagyPYoung when are you gonna be a top 5 NBA player" I think I'm top SG

— Nick Young (@NickSwagyPYoung) April 15, 2014
Now it's possible SG stands for "Swag Getter" but I think he meant shooting guard. The man who dubbed himself "Swaggy P" is certainly a guy that can score in volume and the idea that he's not a talented player is asinine. But decision-making has never been a plus for Young on the court and his style of play may get him a lot of points but it doesn't lead to excelling in other areas like passing or defense.
But would you rather Young doesn't have that kind of confidence?
Me neither.
OJ Mayo, banned from the NBA for positive drug test, is considering playing overseas

The King? 'LeBron, it turns out, is Aquaman,' or so the account via Dwyane Wade's wife goe...

From Penny to Thunder Dan to Pistol Pete to Agent Zero, guys who would be better in 2017
Griffin said recently he thinks it's more likely that LeBron James goes to New York than L...

Mayo was suspended for two years last summer for violating the league's anti-drug program

The NBA broke its silence with a statement related to the Lakers-Paul George tampering cha...