Lakers-Nuggets Game 6 Preview: Avoiding Game 7
Previewing Game 6 between the Denver Nuggets and Los Angeles Lakers.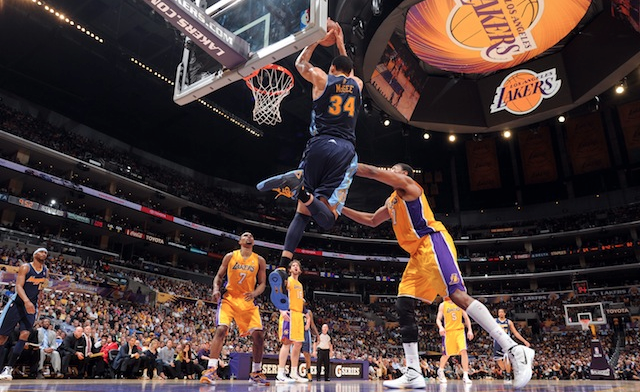 Will JaVale McGee jump over the Lakers again and be a difference in Game 6?
(Getty Images)
Previewing Game 6 between the Denver
Nuggets
and Los Angeles
Lakers
.


1. Where We're At:
The Nuggets went in to Staples and pulled off a dramatic win to force the series back to Denver, where they now have a chance to force Game 7. The Nuggets have had chances to take a firm grip on this series, but haven't been able to play consistently. They didn't run in Games 1 and 2, then got cooking in Game 3, blew a chance to win in Game 4 and hung on for Game 5. They're right in this series. They've got to get one more and take it back to L.A. one more time.
2. The Big Number:
41.2. That's how many points per game the Denver bench is averaging. Contrast that to 17.0 for the Lakers second unit. The Nuggets make up most of their ground when the two teams have their benches on the floor and it's proved to be a major advantage for Denver.
3. Key Adjustment:
Stop
JaVale McGee
? That can't really be what the Lakers need to do, right? It's not that McGee has evolved into some new basketball player, it's just that he's outworking
Andrew Bynum
. The Laker big man has a little bit of arrogance to his game and I highly doubt he respects McGee. And because of it, McGee has outhustled Bynum, beat him to loose balls, grabbed rebounds and taken him off the dribble. The Lakers need an answer for Denver's energy. The Nuggets run, play hard and try and outwork you.
4. The Big Story:
The Lakers missed one opportunity to close out Denver, so here's another. With the Thunder waiting on a winner, L.A. doesn't need to mess around any more. It's a dangerous game to play letting a team hang around, especially when the longer you wait, the more time it gives Oklahoma City to practice and rest.
5. The Facts:
9:30 p.m. EST tipoff.
Metta World Peace
will serve his final game of his seven-game suspension.
Jonah Keri talks with NFL and NBA broadcaster Ian Eagle

SportsLine simulated Wednesday's Nuggets-Clippers game 10,000 times

Galin Dragiev has his finger on the pulse of the Lakers and just locked in a play for Wedn...
No more McNuggets allowed in the Barnes household

Leonard has played in only nine games this season for San Antonio

Pierce is set to have his jersey retired on Feb. 11, but there's been a lot of controversy...