Lakers' Pau Gasol could be back Monday or maybe tonight
Los Angeles Lakers' big man Pau Gasol is looking to return by Monday, but he also is flirting with the idea of coming back Friday night against the Pacers.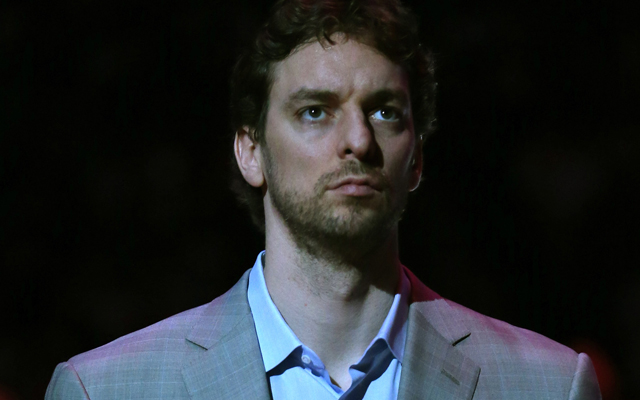 The Los Angeles Lakers could really use another All-Star in the lineup with Kobe Bryant's playing status in doubt and not knowing what he could bring even if he does play. In the event that Metta World Peace doesn't go back to his playing ways of eight years ago, the best chance the Lakers have at getting another player of that caliber is if Pau Gasol can return soon from his torn plantar fascia and get back to playing good basketball.
That might not be such a stretch with Gasol feeling great as of late and possibly returning sometime between Friday night and Monday. From Kevin Ding of the Orange County Register:
D'Antoni suggested @paugasol will return from foot injury Monday at Phoenix. D'Antoni intends to start and finish with Pau, sooner or later.

— KEVIN DING (@KevinDing) March 15, 2013
Pau was noncommittal about his return date but in good spirits after another good workout just now.

— KEVIN DING (@KevinDing) March 15, 2013
According to Dave McMenamin of ESPN Los Angeles, Gasol seemed to imply that playing Friday night against the Indiana Pacers was even a possibility for the big man, who hasn't been in a game since February 5 against the Brooklyn Nets.
I asked Pau after shootaround if he was playing Sunday or Monday. He shrugged and said, "Or Friday." Maybe he plays tonight?

— Dave McMenamin (@mcten) March 15, 2013
Even if Gasol isn't back until Monday's game in Phoenix against the Suns, getting back part of their "twin towers" type of roster makeup could be a huge boost. There will obviously be some time needed to get Gasol conditioned properly and in rhythm with his teammates (he and Dwight Howard have struggled to find any consistency playing alongside each other), but a healthy body that happens to be an extremely talented player is a boost for the Lakers right now.
Gasol recently resumed basketball activities and said he played 2-on-2 basketball in Indiana. 
The former Clipper apparently had some tricks up his sleeve after a chippy game

The Rockets were apparently looking for Austin Rivers and Blake Griffin after a chippy gam...

If they don't meet in the Finals again, let's appreciate every one of the 27 matchups since...
D-Wade picked up the steal and got creative on the fast break as the Cavs headed into half...

Despite the embarrassing hiccup, the youngest Ball had himself a pretty great day on the c...

The players were both ejected in the closing seconds, then continued their discussion off the...