Lakers-Spurs Game 2 Preview: Final scramble to make Lakers relevant
What do the Los Angeles Lakers need to do if they want to steal Game 2 against the San Antonio Spurs?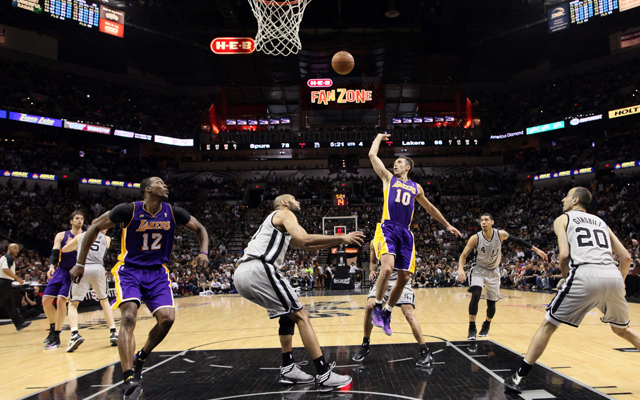 Previewing Game 2 of the Spurs-Lakers first round series.
1. Where We're At: The Spurs lead the series 1-0, after outlasting the Lakers in Game 1. There was a bit of a struggle because San Antonio should be able to blow this team out when they don't have Kobe Bryant and Steve Nash can barely move. It took a big run from Manu Ginobili at the end of the third quarter to finally get separation from the Lakers, but Los Angeles still managed to keep it relatively close after that flurry. Their post game was really good, but because they couldn't spread the floor properly with shooters, they could never get over the hump.
2. The Big Number: 15. The Los Angeles Lakers had 15 assists on 30 made field goals in Game 1. Seven of those assists resulted in baskets in the restricted area and two of them were for 3-pointers. The Lakers can't have just 15 assists in a game and expect to beat a team as good as the Spurs. San Antonio did a great job of taking away passing lanes and forcing passes to players who weren't likely to knock down the shot. LA has to find a way to correct that. Ideally, they need around 22 to 24 assists with half of them resulting in baskets around the basket (tough to do with Tim Duncan there) and a handful coming on successful 3-point shots.
3. Key Adjustment: Steve Nash in a pick-and-roll toward the middle of the floor. You have to get the Spurs' defense moving side-to-side in order to begin to break them down. This is something Steve Nash used to be good at. That was back when he could move though. He's not going to do much dribbling off the pick-and-roll to circle through the defense. You've got to get him into the middle of the floor off the pick-and-roll so he can be in the heart of the defense and decide how to dissect it. It's not a great plan, but in the words of Lt. Aldo Rain at the entrance of a basement bar, "what choice you got, son?"
4. The Big Story: Is Dwight Howard capable of leading? I apologize to Spurs fans for making this so Lakers-centric, but it's the internet. Until it looks like the Lakers officially don't have a shot of advancing, we can't really move on to the next round when your title aspirations come into focus. For now, we get to wonder if Dwight Howard is the leader he once was or if that was smoke and mirrors with Stan Van Gundy behind the curtain. When healthy, Dwight Howard is a top-5 guy in the league. Even at 80 percent or whatever he is health-wise now, he should be capable of showing leadership on this Lakers team. Can he lead his team to steal on in San Antonio or does he need Nash to step up and lead the team for him?
5. The Facts: 9:30 p.m. ET start time. No notable injuries at this time.
Lakers rookie got his shot to fall, thanks in part to some of the worst defense you will ever...

The singer of the national anthem at the Nets game took a knee at the end

This was the Lonzo Ball people were expecting out of college
Antetokounmpo finished with 34 points, 8 rebounds, 8 assists, and 3 steals, but the Cavs won,...

John Wall is proud of his ability to block shots and thinks nobody at his position has been...

Giannis went at LeBron on a fast break, but LeBron won the matchup