Lakers-Spurs: The end is nigh for the Lakers, and they can't avoid it
After dropping the first three games in their series against the San Antonio Spurs, the Los Angeles Lakers can't avoid their fate.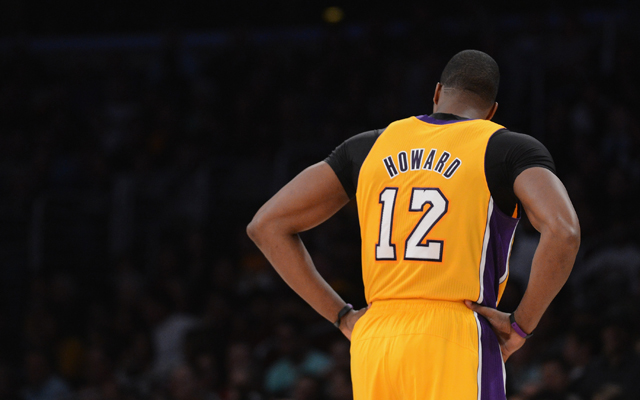 The Los Angeles Lakers were going to have to rely on Andrew Goudelock and Darius Morris for a starting backcourt in Game 3 against the San Antonio Spurs on Friday night. If you're not familiar with these two players, don't feel bad; they're not exactly household names, unless your household exists in the NBA's D-League. 
The awful thing for the Lakers is these two players showed up and did really well. They combined for 44 points on 17-of-32 shooting (20 points on 8-of-17 for Goudelock, 24 on 7-of-15 for Morris). Why is that awful? Because two guys that most fans have never heard of had great playoff performances when they were much-needed, and the team still got blown out of the water. And, with this 120-89 blowout loss, the Lake Show finds itself on the verge of getting canceled. 
San Antonio is now up 3-0 in the series and has never really had to sweat its competition in any way. The Lakers have been at the mercy of whatever the Spurs wanted to do on the court. Even L.A. has Dwight Howard and Pau Gasol to battle Tim Duncan inside, he has crushed their dreams on nearly every play that he's had the ball. Tony Parker has carved up their defense with relative ease and almost no resistance. And it's really because the Lakers don't have a defense. They don't have an identity at all.
We've seen them struggle with this all season long. They tried to become a team transitioning to a new superstar (Howard). They tried to become a team that transitioned to a new style that would allegedly maximize their talent (Mike D'Antoni's system). Instead, they battled injuries as much as they battled opponents. They clawed their way from big deficits against small competition and fought through the ups and downs of the regular season to sneak into the playoffs on the last day. All the while, their only true identity was a 17-year veteran who went down in the final stretch run with an Achilles tear.
For months, people wondered aloud if they should be tricking themselves into believing the light at the end of the tunnel was daylight. It turns out it was a train conducted by Father Time while Gregg Popovich shovels the coal.
There are probably 48 minutes left in a roller-coaster season for the Los Angeles Lakers. And the sad thing is there isn't anything that they can do about it. Howard can't lead them. Gasol can't complement them. Metta World Peace can't hustle enough for them. Goudelock and Morris can't step up more than they did in Game 3. There is no solution to this problem right now. The Magic (get it, Dwight?) 8-ball says to try again later.
Instead of game plans and injury reports, there is simply trying to scout for the 48th pick in the 2013 draft, pitching Howard on re-signing in Hollywood, finding any suitors for Gasol, attempting to sign shooters and seeing if Steve Nash can get healthy to try to help save D'Antoni's job next season.
There is no more hedging your bets. It's time to pay the bookie and move on.
Two of the league's young, up-and-coming squads will square off on Tuesday in Minneapolis

Kawhi Leonard is set to make his season debut for the Spurs

Lonzo Ball will make his Madison Square Garden debut
Leonard, who hasn't played this season due to a quad injury, may return with more skills than...

James, who adjusted his shooting mechanics, is on par with Steph Curry's all-time great 2015-16...

Jordan Bell had himself a night against Portland