Lakers' Steve Nash: 'I think this is my last season'
Lakers point guard Steve Nash is looking forward to one last season in the league.
• 1 min read
Offseason: Free Agency | Latest from Ken Berger | Rumors
Los Angeles Lakers point guard Steve Nash confirmed what has long been assumed in a recent interview with Sport TV, saying that next season will be his final one in the NBA, via the Los Angeles Daily News' Mark Medina.
"I think this is my last season," Nash said. "But I still love to play. I love to practice and work on my game. I'm going to spend hopefully many, many years living this life without basketball. It'll be nice to play one more year."
Nash is 40 years old and coming off a season in which he only made 15 appearances, averaging 6.8 points and 5.7 assists per game under head coach Mike D'Antoni. In his The Finish Line documentary series at Grantand, he considered the possibility that the Lakers might waive him under the stretch provision. That would mean spreading his remaining salary out over three years instead of one. It now appears the team will not do that, opting to let him play out the final year of his contract and preserving the financial flexibility it has in the next two offseasons.
It doesn't appear Los Angeles has a ton of confidence that Nash will be healthy next year, as it acquired Jeremy Lin from the Houston Rockets to presumably start. In the second round of the draft, the Lakers selected Jordan Clarkson, a combo guard who will get a chance to play the point.
The eight-time All-Star and two-time MVP showed in (extremely) short bursts last season that he can still be effective when his body cooperates. All his fans can do now is hope that all of these months of rehab and rest mean he can end his career on his terms.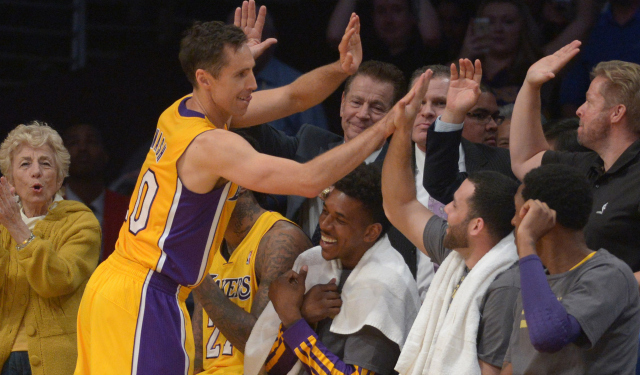 Westbrook's late layup gave the Thunder a 109-108 victory

LeBron became the seventh player in league history to reach the milestone

There were a few things that stood out from Tuesday's All-Star selections
Here are three players from each conference who had legitimate claims to make the game

LeBron achieved the milestone in the first quarter Tuesday

Here are the full lineups for the 2018 NBA All-Star Game