Lakers' Steve Nash out for final regular-season game
Steve Nash will not play Wednesday vs. the Rockets. An MRI reveals no structural damage.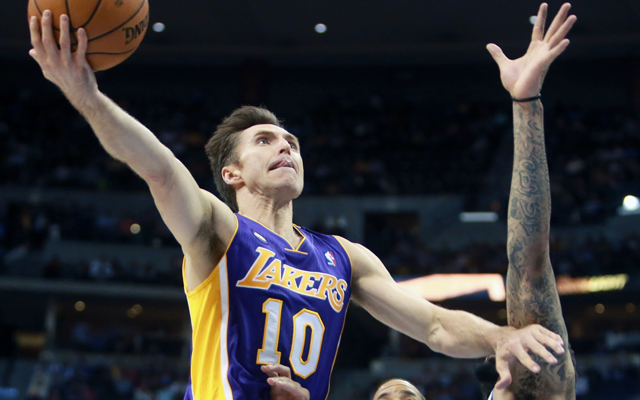 Hey, more Lakers injury news. How's that for a change of pace? 
The Lakers announced Tuesday that an MRI revealed no structural damage related to Steve Nash's hip and leg soreness. Nash won't play against the Rockets in an important game for the Lakers on Wednesday, and although they're hopeful he'll return soon, it's not a sure thing. From the Lakers: 
Los Angeles Lakers guard Steve Nash underwent an MRI exam, which confirmed several preexisting issues related to his hip and back, which are causing nerve irritation and contributing to his hamstring pain and weakness.  Nash received an epidural injection this morning, and will not play in tomorrow night's game against the Houston Rockets.  It is hopeful that he will be able to return to play in the next several days.
The Lakers need a win or a Jazz loss on Wednesday to clinch a playoff berth, and a win to clinch the seventh seed. More importantly, with Kobe Bryant out for the playoffs, they need Nash to act as primary playmaker and as a scoring threat to have any shot at an upset. Being without Nash for the playoffs might end their already-thin hopes. 
Nash has played just 50 games this season for the Lakers, averaging 13 points and 6.7 assists, his lowest assists total since 2001. 
Another day, another social media beef for Embiid

We have all the latest scores, highlights and news from Wednesday's NBA games

Thomas spent a day with a 10-year-old girl whose family is also new to Cleveland
Barkley did not hold back with his opinion of the Big Baller Brand patriarch

LaVar Ball also made it clear he thinks his sons are being placed in 'a great situation'

The Thunder are just 12-14 on the season, despite the addition of Paul George and Carmelo...