Lakers teammates say Howard has a right to be frustrated
The Lakers say Dwight Howard has a right to be frustrated with how the Lakers are defending, and Howard kind of agrees with that.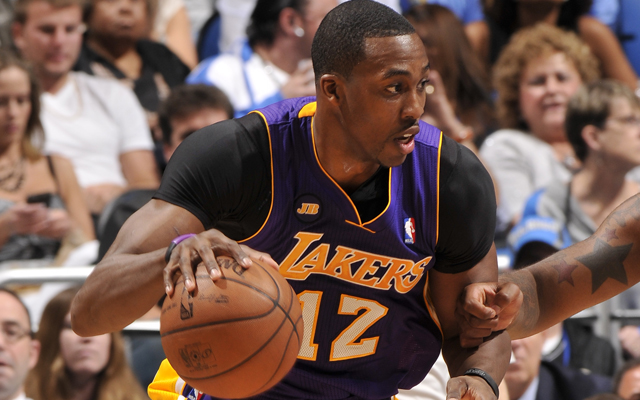 The Lakers lost on Sunday to the Clippers, and were just worked over defensively, as has been the case in nearly every big game this season. Dwight Howard was active, but his teammates let a parade of perimeter penetration go through and Lob City got into full effect. 
After the game, ESPN reported that Antawn Jamison said that Howard has a right to be upset and disappointed with how his teammates are playing around him, and Howard pretty much agreed: 
"He should get frustrated when other guys are not doing what they should be doing," Lakers forward Antawn Jamison told ESPNLosAngeles.com. "You can't have one guy defensively do his job and everybody else is not doing theirs. That's been our point of emphasis the last couple games. But we backtracked [Sunday] instead of continuing to concentrate on that.

"And it shouldn't be happening now, especially with where we're at."

Who is that on?

"All of us," Jamison said. "Everyone."

Howard has a different way of showing his anger than most people are used to. He doesn't believe in bashing his teammates publicly. Instead he'll either say very little, or say just enough to clue you in on where his head is.

Sunday afternoon he was about as terse and upset as he has been at any point this season.

His answers were one or two sentences. His expression was sullen.

"We just need to play the right way," he repeated at least five times. "We know what we have to do to win."

When a reporter asked if Howard was frustrated or upset or disappointed about the loss, he paused and said, "Can we ask some more questions?"
via Dwight Howard has plenty to be frustrated over -- Los Angeles Lakers Blog -- ESPN Los Angeles.
The Lakers are .63 points per possession better defensively when Howard is on the floor rather than off, a tremendous differential in context, and far greater than any other Laker who gets time, according to NBA.com. 
But as I talked about here, Howard's problems defensively have been present this season. He's part of the solution long-term, but he's also been part of the problem. Howard hasn't been engaged defensively for long stretches during the season. To sit there and blame everyone else and make him into a victim when he does put out that kind of DPOY effort is a little off. He's got to bring that, that's his responsibility. 
Still, there's no denying that all the Lakers, from Jamison to Jodie Meeks to Earl Clark to Kobe Bryant and Pau Gasol have to do better if the Lakers are going to make the playoffs. 
Otherwise the frustration is going to be an entirely different level. 
Cuban weighed in on the ongoing feud between the basketball dad and the POTUS

Embiid has taken his trash-talk game to the next level this season, but he's not scared

Last year Durant said returning to his old home was 'never going to be a regular game'
The All-Star forward injured his wrist during Sunday's loss to the Lakers

Steven Adams believes he's the problem with the Thunder struggles in the clutch

LaVar claims that Luke Walton has been 'soft' on Lonzo so far