Lakers warm up for Mike D'Antoni era, but will embark on it without Steve Nash
Even as Mike D'Antoni plans to make his Lakers coaching debut Sunday against the Rockets, the new so-called Showtime era will be on hold with news that Steve Nash will miss at least another week with a fractured leg.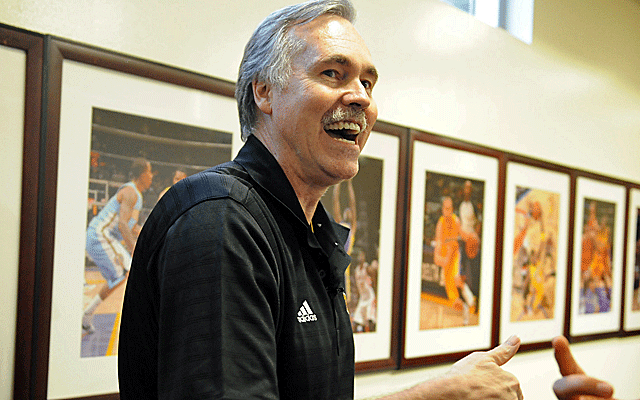 Mike D'Antoni's debut with the Lakers is pushed back to Tuesday.
(Getty Images)
LOS ANGELES -- Mike D'Antoni addressed the Lakers in the locker room before the game and at halftime. In between, it was revealed that point guard Steve Nash will miss at least another week with a fractured leg.
Technically, the new Showtime hasn't begun. This was merely a warmup Friday night, a 114-102 victory over the Suns that almost had the feel of a preseason game and proved that the Lakers' new offense is all academic until Nash returns.
More on Suns-Lakers
Related links
Despite scoring 32 more points than they did Tuesday night against San Antonio, the Lakers' new up-tempo attack was basically a race car slowed by a restrictor plate. D'Antoni has only had one practice to work with since arriving from New York, and it consisted mostly of 3-on-3 drills that he normally schedules for training camp in September. The Lakers played faster and looser and shot more willingly Friday night, but let's not confuse their 114-point eruption against Phoenix with how they will be playing in a month or two.
"Obviously, it's not going to happen overnight," said Suns coach Alvin Gentry, who has continued to run the triple-threat offense after D'Antoni left the Suns for the Knicks in 2008. "But it's going to be something that's going to work. I don't think it's complicated at all. It's the way most guys play, anyway, so they really enjoy playing that way. There's little idiosyncrasies that you have to learn. But for the most part, it's an enjoyable way to play and it's a way that you utilize what guys do best. You can play to their strengths."
A couple of positive signs for the Lakers: Pau Gasol, whose compatibility with the offense has been questioned, looked relaxed in knocking down open jumpers from all over the floor. Gasol hit his first five shots and finished with 16 points and 10 rebounds.
But an even bigger beneficiary of D'Antoni's famous spacing and shoot first, ask questions later approach was none other than Metta World Peace, who'd been coached by Phil Jackson and Mike Brown to shy away from 3-point shots. World Peace hit 5-of-10 from beyond the arc Friday night and had 22 points.
That was the good. Despite the scoring output -- D'Antoni has said he wants the Lakers to average 110-115 points and they were right on the money after only one practice -- there was plenty of bad. Dwight Howard and Gasol were slow to recognize high pick-and-roll opportunities early in the shot clock. Howard in particular was not crisp on his rolls to the basket. That will come with repetition and as Howard gets his conditioning back after recovering from back surgery.
Kobe Bryant (31 points on 10-for-24 shooting), who has played D'Antoni's style internationally for years and said he knows it "like the back of my hand," had to repeatedly remind his teammates with a two-handed speed-it-up motion to take the ball out of the basket quickly after makes and push the other way.
"They're not used to it," Bryant said. "It's like a new habit. You kind of have to get into a new habit, make or miss -- especially on makes. You've got to get used to getting the ball out quick and going. You don't have time to relax."
Bryant paused for a moment and added, "When Steve comes back, that'll happen."
And that's the key to everything. While Bernie Bickerstaff confirmed he'll step aside for D'Antoni starting Sunday after going 3-1 as acting coach -- "I'm turning the gavel over," Bickerstaff said -- D'Antoni's first week on the job will look nothing like it should. During the game, the Lakers announced that Nash had been evaluated again Friday by the medical staff and ruled out for at least another week. That puts Nash out for a minimum of four more games.
D'Antoni's offense is predicated on point-guard initiation, and no one has ever run it better than Nash. D'Antoni has had other point guards enjoy varying degrees of success as the driving force of his offense -- most notably Raymond Felton and Jeremy Lin, whose Rockets visit the Lakers on Sunday. But Nash is the reason that D'Antoni is here, and that will be obvious in his first few games as Lakers coach without him.
"It's more of a rhythm offense than it is this breakneck pace that everybody thinks that it is," Gentry said. "It's a rhythm offense that I think for sure everyone's going to be able to play. Dwight Howard? Why would he not be great at it, rolling to the basket? You've got the best open-court player in the game, in my opinion, as a basketball player in Kobe Bryant. Steve Nash is a great pick-and-roll player, and Pau Gasol, I think he'll thrive in this system."
But even though Showtime technically resumes Sunday at Staples Center, the real thing is on hold until D'Antoni finally gets his point guard back.
"I've tried coaching without him before, and it didn't work out too well," D'Antoni said. 
He'll have to do it for a little while longer.
Wade opted in to his $24 million player option earlier this summer

Barkley spoke to the NFL Today crew about the response the president received in his home...

The restricted free agent has a deal in place that will keep him with the Bulls after a st...
James' support continues his trend of social activism on social media

The newly-acquired All-Star thinks the addition of Anthony boosts the Thunder in the NBA's...

The Knicks were asking for the house in discussions for Carmelo Anthony