Lamar Odom arrested on DUI charges
Free agent and former Laker Lamar Odom was arrested on DUI charges Friday as rumors of a drug issue continue to swirl.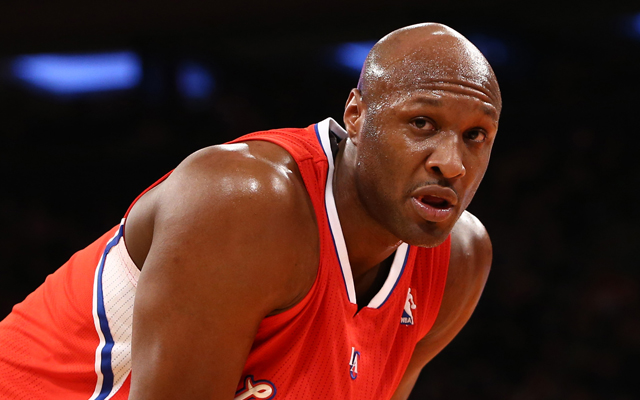 Update 11:50 a.m.: CBS Los Angeles has statements from the police confirming the arrest. 
"One of our officers observed a white Mercedes SUV driving eastbound on the 101, approaching Sepulveda. The vehicle was weaving in the lanes, driving at approximately 50 miles per hour," Officer Ming Hsu told KNX 1070.

Officers pulled Odom over around 3:25 a.m. after he exited the freeway at Coldwater Canyon Boulevard. He was arrested after he showed "objective signs or symptoms of intoxication and was unable to perform field sobriety tests as explained," Hsu said.

Officials believe the 33-year-old was driving under the influence of alcohol.Odom was booked at 5:01 a.m. at the Los Angeles Police Department's Valley Jail in Van Nuys.

"At the jail, Mr. Odom refused all chemical tests and was booked without further incident," according to the California Highway Patrol.
via Lamar Odom Arrested On Suspicion Of DUI « CBS Los Angeles.
---
10:30 a.m.: TMZ reports that free agent forward Lamar Odom, who is reportedly dealing with drug problems, was arrested early Friday on DUI charges. 
Lamar Odom was arrested for DUI early Friday morning ... TMZ has learned.The bust occurred in the San Fernando Valley at 3:54 AM.  Lamar was popped by the California Highway Patrol and taken to a nearby station, where he was booked and is being held on $15,000 bail.He was pulled over on the 101 Freeway for going too slow -- 50 MPH.  Lamar did not respond to cops, and drove 3 exits before finally coming to a stop.  Law enforcement sources tell TMZ he showed obvious signs of intoxication.  Lamar failed numerous field sobriety tests.  When Lamar was booked, were told he refused all chemical tests.
via Lamar Odom -- Arrested for DUI | TMZ.com.
This is unfortunately starting to look like one of those situations of a celebrity spiraling out of control. Maybe things aren't as bad as they're being made out to be, but the arrest on top of the drug reports and rumors of issues in his personal life paint an unfortunate picture. 
Odom averaged four points, six rebounds, and two assists last year for the Clippers, and while he didn't play a huge role, did look serviceable more and more as the year went on. It had seemed like he was getting his career back together after the disastrous season in Dallas, but these problems go well beyond a jump shot. 
Fergie: 'I'm a risk taker artistically, but clearly this rendition didn't strike the intended...

Victor Oladipo had a successful R&B album over the offseason and Jamie Foxx is a fan

Klay Thompson makes sure he stands out during All-Star Weekend
There's no shortage of moments to choose from

The Trail Blazers almost traded for Charles Barkley, but when they didn't, it put them in debt...

The self-proclaimed ASG snub Williams may be bitter about Butler requesting to sit out Sun...