Lamar Odom off Team USA, nine players guaranteed spots
Lamar Odom isn't a candidate for Team USA anymore, Anthony Davis is and nine players are guaranteed spots, with six others vying for the final three positions.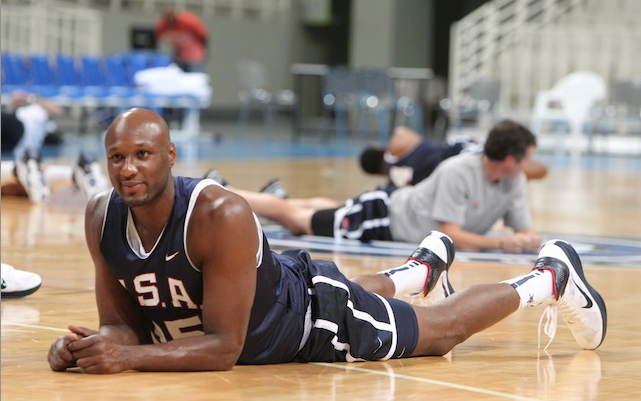 Lamar Odom won't be taking his talents to London.

(Getty Images)
Team USA has lately taken a bit of a beating with Derrick Rose, Dwight Howard, LaMarcus Aldridge, Dwyane Wade and Chris Bosh out of consideration for London.
And with Anthony Davis suffering an ankle sprain, the U.S. could be down yet another big man. But he might still be a candidate for the team, says USA Basketball chairman Jerry Colangelo. Via Fox Sports Florida:
Despite a sprained ankle that could sideline him this week, Colangelo said Davis remains under consideration for the team.
[...]
Davis, taken last Thursday with New Orleans as the No. 1 pick in the draft, sprained his ankle in a recent workout with the Hornets. Colangelo, who said Davis always has been a "long shot" to make the team, said that doesn't necessarily mean Davis is out of consideration for the Olympics.

Colengelo said Davis could be selected for the team and then could be replaced by an alternate if his injury continues to hamper him. Or he said, if Davis doesn't make the team, the possibility could exist to replace a player if there is another injury.
Regardless of Davis, Colangelo said there are nine players guaranteed spots: LeBron James, Kobe Bryant, Carmelo Anthony, Chris Paul and Deron Williams, all of who were on the 2008 gold-medal team at Beijing. Also on the roster are Kevin Durant, Russell Westbrook, Kevin Love and Tyson Chandler from the 2010 World Championship team.
That means there are three spots remaining, with six players in the pool. Why only six? Because Lamar Odom has decided to drop out, says his agent Jeff Schwartz.
"Jeff told me quite some time ago that he really wanted the opportunity and so we talked about it and we decided to give him an opportunity and then he was kind of in and out a couple of times," said Colangelo, who had agreed to give Odom, who was traded last week from Dallas to the Clippers, another chance after he had a disastrous season with the Mavericks and was on the outs as far as making the Olympic team. "I think Jeff was perplexed, too. So up until (Monday afternoon), he was a go. And now he's out."
Although via ESPN LA, Odom says he's not entirely out. To Colangelo though, he is, which is all that really matters.
The six remaining players are James Harden, Eric Gordon, Davis, Rudy Gay, Andre Iguodala and Blake Griffin. Iguodala, Gay and Gordon were on the 2010 World Championship team. Harden was a late addition because of the injury to Derrick Rose and Griffin. Well, that one is a bit surprising to not be a lock. With Team USA so very thin up front, Griffin seems to be a sure thing, but he didn't make the 2010 team, so I'm sure Colangelo wants him proved first.
The concern with the U.S. roster is only having one true big man, while Spain, the main competition, has an interior trio of Marc Gasol, Pau Gasol and Serge Ibaka. Although the U.S. will be versatile as Durant, James and Anthony can transition to play minutes at power forward.
The roster is already shaping up with training camp starting July 6. Nine players are already in, with six players battling for three tickets to London.
There was some explosive guard play this week in the NBA's rookie class

With half of the season in the books, there were some clear favorites for our Midseason Aw...

Zack Cimini is 12-3 on picks for or against the Pistons ATS and locked in a play for Frida...
Both Washington and Detroit will try to snap losing streaks Friday night

The Hornets are reportedly looking to move their franchise point guard

We've got all the scores, highlights and news for Thursday night